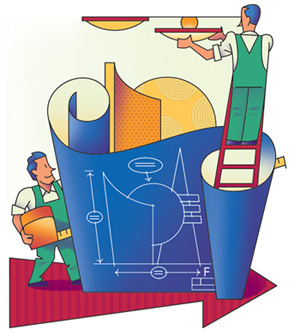 ILLUSTRATION: MARK FISHER
Q.
Our exhibit-lighting designer uses the term "lumens" as opposed to "watts." What's the difference between them?
A.
Simply put, watts are a measure of electrical voltage, and lumens are a measure of brightness. Given the myriad recent advances in lighting, using a lamp's wattage to ascertain its brightness simply doesn't work anymore. That is, it used to be that the higher the wattage, the brighter the light. Today, however, new light sources such as LEDs and CFLs can use much lower wattage (i.e., less electrical power) and still create brighter light.
The term "lumens" comes from the physics world and is used to measure light output more effectively. Since the term's scale of measurement is universal, you can use lumens to measure the brightness of any light source, from incandescents and LEDs to metal halides and fluorescents.
It's easy to find out how many lumens a light bulb emits. As of 2011, the Federal Trade Commission requires a lamp's lumen output to be highlighted on its consumer packaging. But for watts versus lumen comparisons, here are some quick guidelines:
What's Watt?
40 watts = 450 lumens
60 watts = 800 lumens
75 watts = 1,100 lumens
100 watts = 1,600 lumens
150 watts = 2,600 lumens
Of course, lumen measurements are always approximations. They can vary slightly depending on the lamp's manufacturer, the age of the lamp, the presence of dirt or dust, whether the lamp is clear or frosted, the voltage rating, etc. Despite these marginal factors, however, the lumen is still the most accurate measure of your lamp's brightness.
— Tom Farin, founder, Pegasus Lighting, Beaver Falls, PA