WaveLight Inflatable Backlit Counter
Make a memorable first impression with a WaveLight Inflatable Backlit Counter from Makitso USA, which packs flat and inflates to its full size in less than 15 seconds. Comprising a plastic core, internal LEDs, a silicone-edge, custom-printed fabric shell, and a plastic countertop available in a black, white, or wood-grain finish, the counter can be powered by either a standard electrical plug-in or a rechargeable lithium-ion battery. The fabric graphic remains attached to the counter when it's deflated. "Even my sales reps could set this up, that's how easy it is," said one Buyers Choice Awards judge.
Contact:
Makitso USA, Houston, 888-495-2859,
www.makitsodisplays.com
---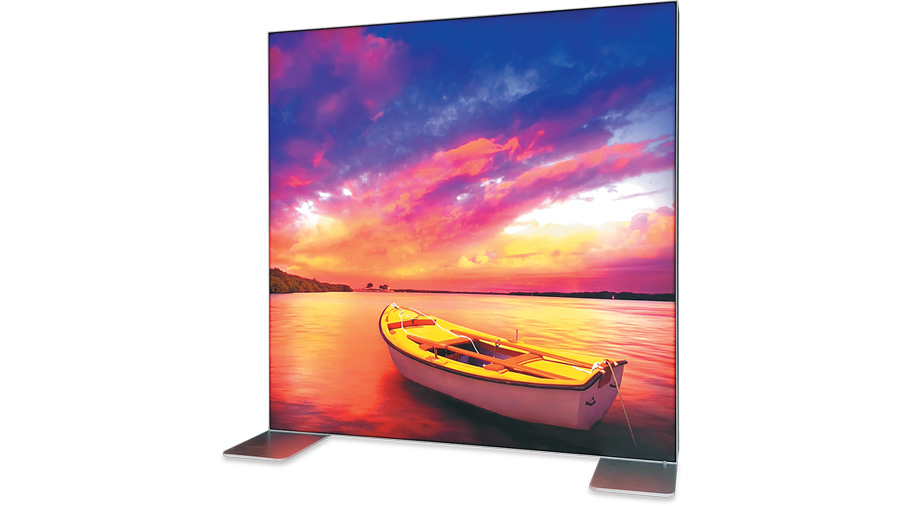 Klik SEG Frames
Reduce the setup time of your silicone-edge graphic components by up to 75 percent with Klik SEG Frames from Fusion Imaging. The system uses proprietary Klik magnets to allow for fast, tool-free assembly â?" a feature that resonated with Buyers Choice Awards judges, who praised the frames' ability to slash labor costs. Available in depths of either 4 inches or 7 inches, these lightweight aluminum frames can be wall mounted or made freestanding with the addition of feet that attach with a simple bolt and knob. Custom SEG fabrics can be backlit on one or both sides, and the entire system breaks down for easy shipping and minimal drayage fees.
Contact:
Fusion Imaging, Kaysville, UT, 800-943-5200,
www.fusionimaging.com
---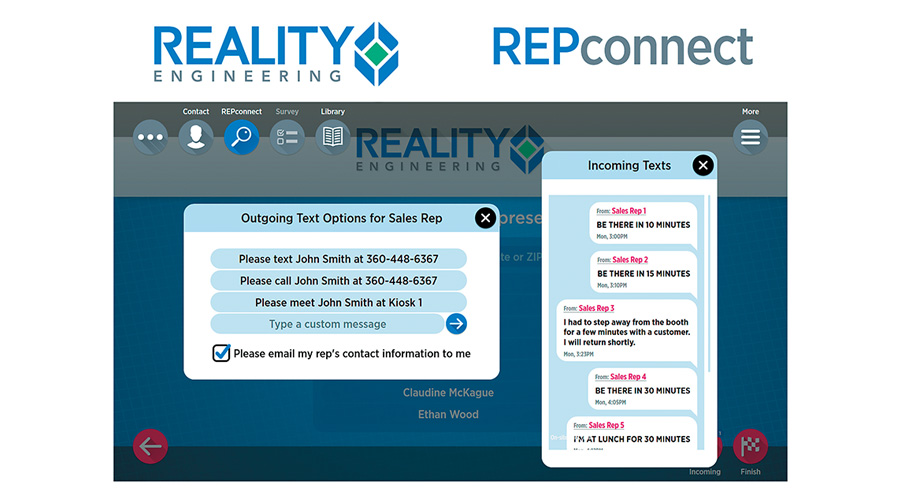 REP Connect
Professional hosts and hostesses at the reception desk of a large exhibit sometimes struggle to connect attendees to appropriate staffers, as they often don't know the sales reps, what they look like, or if they're currently in the booth â?" or even at the show. REP Connect speeds up these crucial in-booth engagements, which prompted one Buyers Choice Awards judge to say, "I've been waiting for something like this for years!" After a receptionist scans an attendee's badge or inputs key data points (e.g., territory, product line of interest, etc.), REP Connect displays the name, photo, and contact information for the most appropriate sales rep. The system can then send that rep a text message alerting him or her to meet the attendee at a designated area of the exhibit. What's more, sales reps can use REP Connect to check in and out from breaks and meetings, ensuring that no attendees are left waiting.
Contact:
Reality Engineering Solutions LLC, Camas, WA, 360-448-6361,
www.realityengineering.com
---
Tactile VR-AR
Virtual- and augmented-reality systems are becoming increasingly common on the trade show floor, but their complicated assortment of control buttons, joysticks, and touchpads can be confusing to the average attendee. Enter Tactile VR-AR, a wireless, interactive controller and presentation device for VR and AR activations that wowed Buyers Choice Awards judges with its simplicity. Comprising a 13-inch-diameter Lazy Susan-type turntable, the Tactile VR-AR system allows VR headset wearers to manipulate objects in the virtual world by rotating the turntable and touching the buttons on the device. For AR applications, the turntable becomes a display pedestal and projector for AR objects that respond to attendees' input.
Contact:
Exhibitry, Houston, 281-240-2212,
www.exhibitry.com
---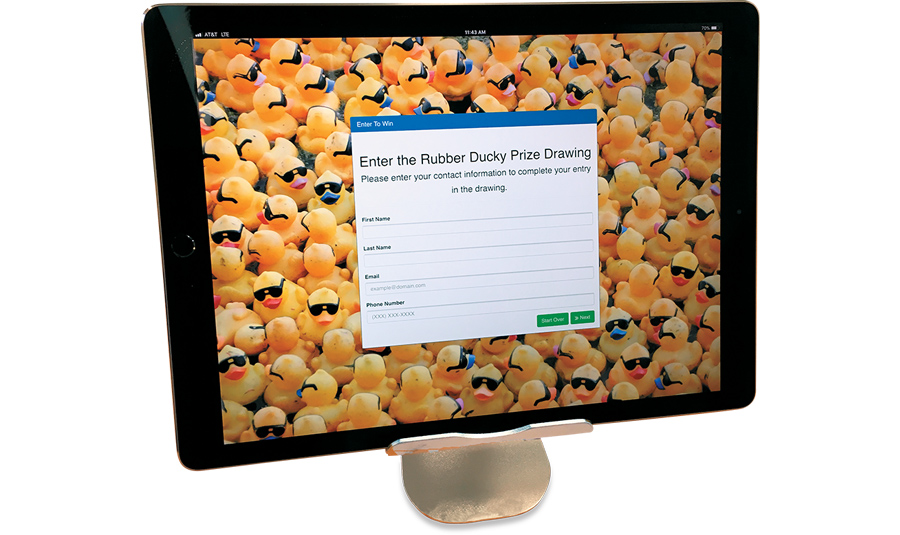 Digital Fishbowl
The Digital Fishbowl from SocialPoint is a streamlined way to incentivize attendees to provide their contact information and/or take a survey, making it perfect for events at which badge scanners are not suitable or unavailable. Using an iPad or tablet-based computer, showgoers input their data in a custom, gamified program to be entered in a prize drawing. The program is compatible with multiple customer relationship management software programs, which scored major points with Buyers Choice Awards judges. Even better: Results can be compared across multiple locations from a single dashboard.
Contact:
SocialPoint, Minneapolis, 888-294-0826,
www.socialpoint.io
---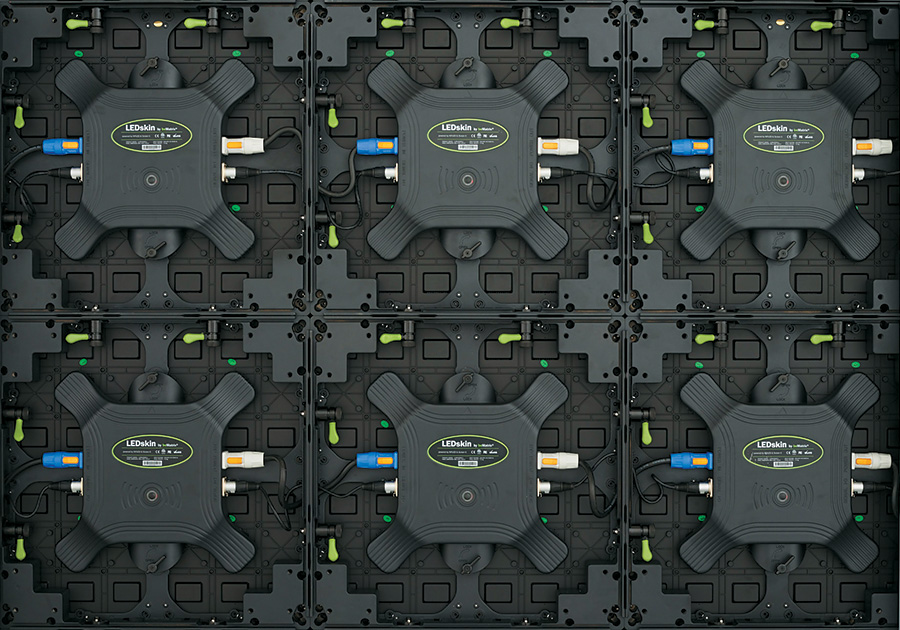 LEDskin
LED video walls can be an intimidating topic, but Buyers Choice Awards judges were impressed by how beMatrix USA's LEDskin system simplifies installation and maintenance by integrating LED panels into the company's b62 frame system. Each proprietary LED tile casing is designed to fit perfectly inside a frame and be installed without tools. Wire management is a cinch, thanks to the b62's internal holes that hide electrical connections beneath either silicone-edge graphics or hard-panel rear infills. Snap-on hole covers can be applied to the tile edges for a professional finish, while a 3.1-millimeter pixel pitch results in crisp visual presentations.
Contact:
beMatrix USA, Norcross, GA, 770-225-0552,
www.bematrix.us
---