portfolio
Lease of Mind
Rental exhibits have come a long way, baby. Given the recent advances in materials and design, not to mention industry strides made with regard to weight, modularity, and ease of assembly, rental exhibits blend right in with their custom counterparts – and often at a fraction of the price. To illustrate this significant evolution, here are six rental exhibits that marry artistry with functionality.
By Linda Armstrong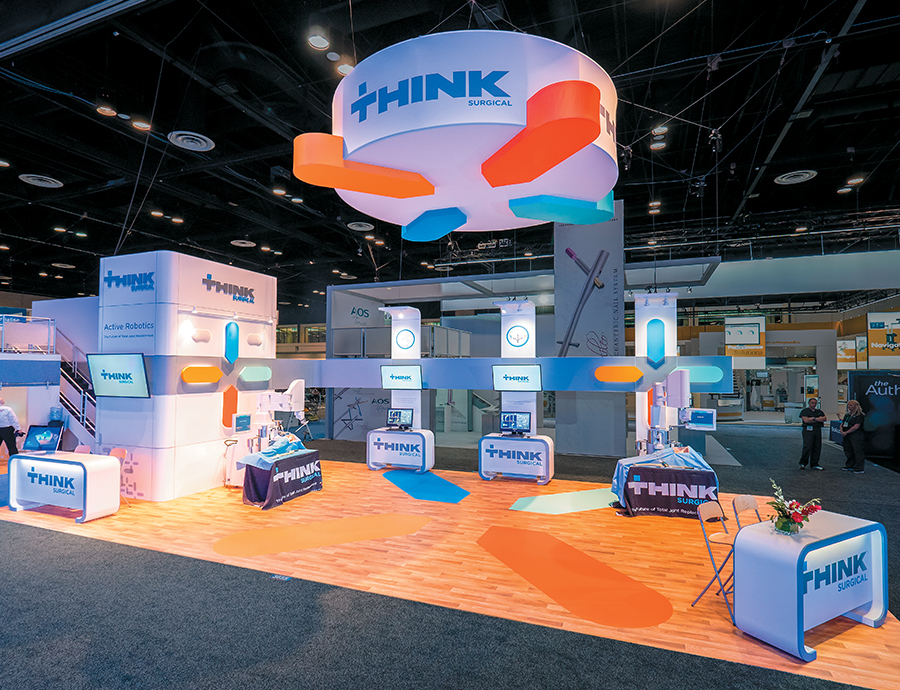 PHOTO: Eelpond Photo Group
Long and Clean
Exhibitor:
Think Surgical Inc.
Show:
American Academy of Orthopaedic Surgeons Annual Meeting
Rental Provider:
Access TCA Inc., Whitinsville, MA, 508-234-9791,
www.accesstca.com
Comprising 90 percent rental components, this 20-by-40-foot booth was constructed using mostly the B62 system from BeMatrix USA LLC. While the majority of the space featured an open and inviting layout, a double-deck structure offered an enclosable private demo space.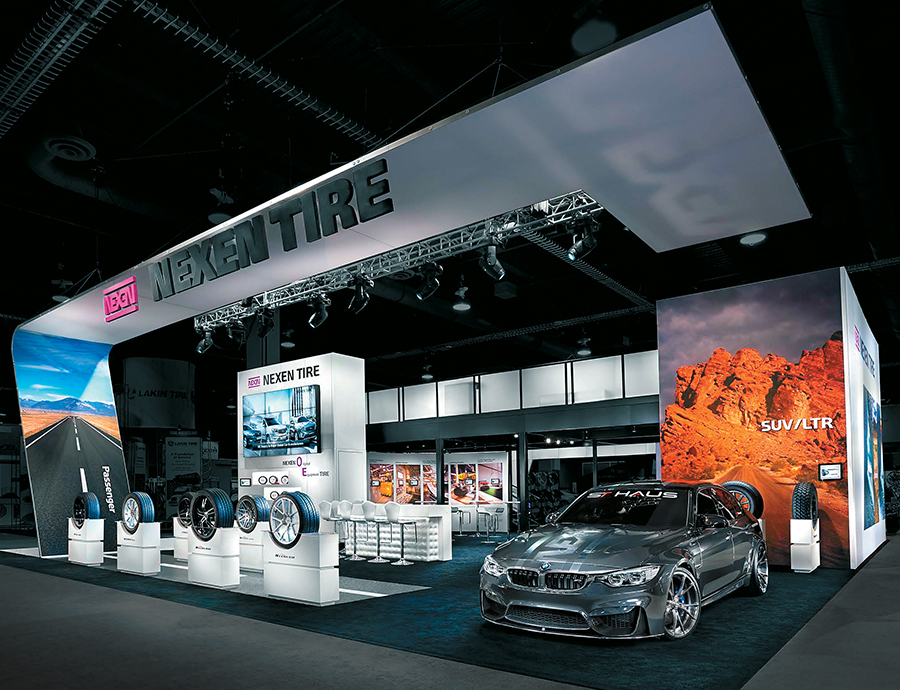 PHOTO: Proto Images
Wheely Big Deal
Exhibitor:
Nexen Tire America Inc.
Show:
Specialty Equipment Market Association Show
Rental Provider:
Steelhead Productions, Las Vegas, 702-405-0190,
www.exhibithappy.com
A neutral color scheme offered the perfect backdrop to highlight this exhibitor's vibrant graphics and tire displays. Minimal ground-level exhibitry promoted an open floor plan, while a double-deck meeting space and a one-off ceiling element drew attendees' eyes to the skies.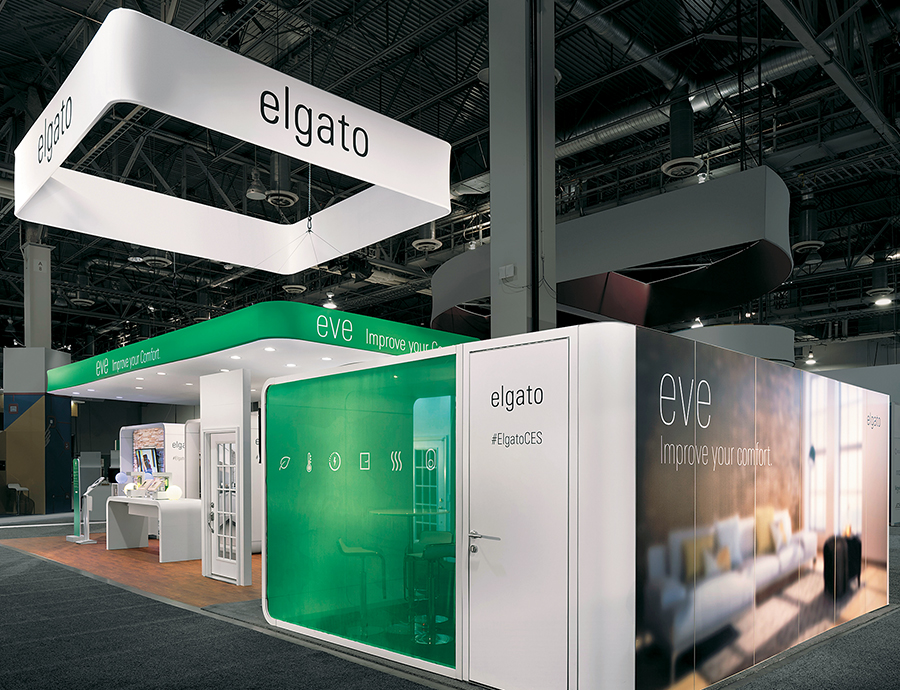 PHOTO: Padgett and Company Inc.
Ceiling the Deal
Exhibitor:
Elgato Systems GmbH
Show:
International Consumer Electronics Show
Rental Provider:
Access TCA Inc., Whitinsville, MA, 508-234-9791,
www.accesstca.com
Mixing elements from BeMatrix USA LLC and Moss Inc., this 20-by-50-foot stand provided ample space to peruse the exhibitor's consumer-technology products. Meanwhile, two overhead elements – a central canopy and an open rectangular structure above it – added an air of distinction.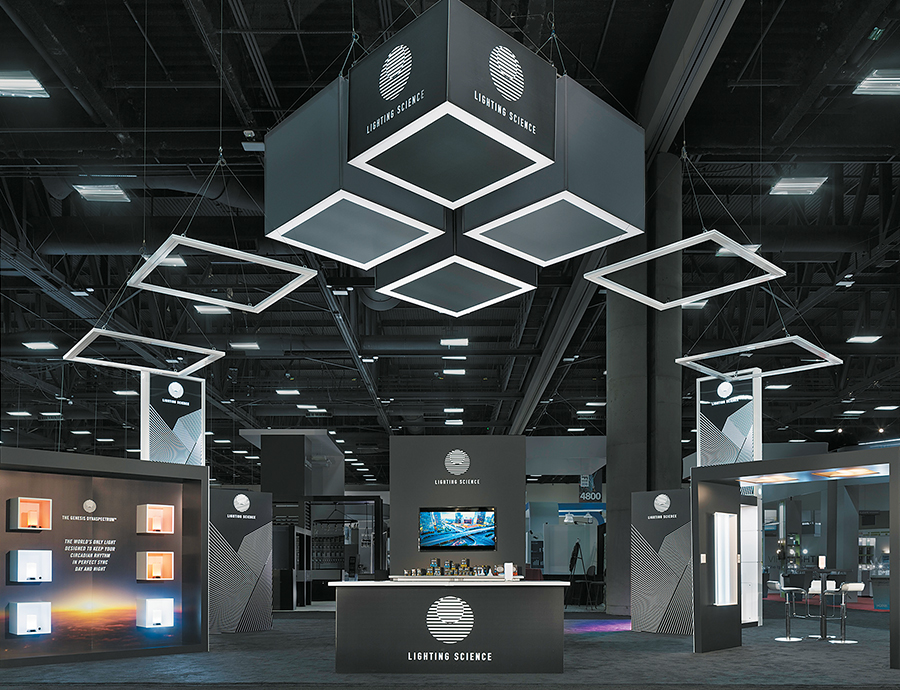 PHOTO: Padgett and Company Inc.
The Bold and the Beautiful
Exhibitor:
Lighting Science Group Corp.
Show:
Lightfair International
Rental Provider:
DesignShop Inc., Orlando, FL, 407-251-1800,
www.teamdesignshop.com
Minimalist architecture and an arresting black-and-white color palette combined to create a commanding presence for Lighting Science Group Corp. Bold overhead elements added weight and prominence to the design, which comprised 70 percent rental components.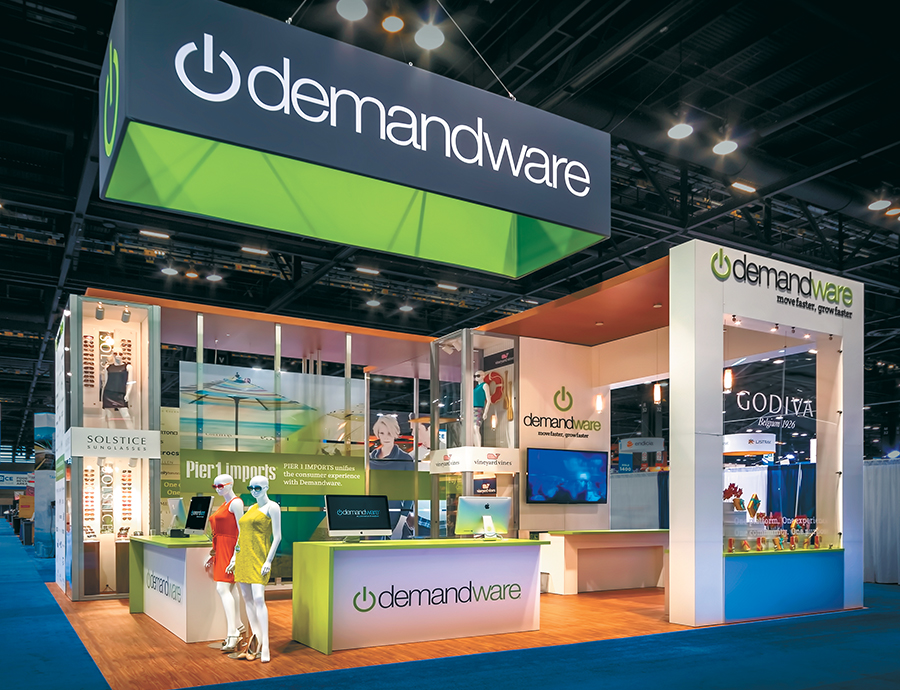 PHOTO: Cole Group
Impact on Demand
Exhibitor:
Salesforce.com Inc. (formerly Demandware Inc.)
Show:
National Retail Federation's Annual Convention and Expo
Rental Provider:
Hill & Partners, Weymouth, MA, 617-471-7990,
www.hillpartners.com
Reminiscent of a high-end retail locale, this stunning exhibit comprised rented modular panels, cabinets, and a hanging sign. Paired with custom graphics, the environment offered strong visual impact for both the Demandware brand and its various partner firms.
PHOTO: Exposures Ltd
Big Blue
Exhibitor:
Faro Technologies Inc.
Show:
International Manufacturing Technology Show
Rental Provider:
Highmark TechSystems, Fort Wayne, IN, 260-483-0012,
www.highmarktech.com
Designed by George P. Johnson, a Project Worldwide agency, this rectangular beauty featured an ExpoDeck double deck and Max multiwall frames from Highmark TechSystems. Clean lines and shapes complemented the exhibitor's 3-D measurement technology.