Designers confront many hurdles during the creative process, chief among them their own ability to find a spark of inspiration. This internal experience is exactly what environmental-design firm D'art Design Gruppe GmbH hoped to transform into an interactive encounter for attendees visiting its exhibit at EuroShop 2017.
The semi-enclosed 57-by-43-foot exhibit comprised five 18-foot-tall triangular structures positioned at various angles along the perimeter of the space. Covered in a mirror-finish foil, the edifices turned the stand into a kaleidoscope of reflected light. "We wanted to achieve a visual irritation, while at the same time inviting visitors to get to know us in a playful way," said managing director Jochen Höffler.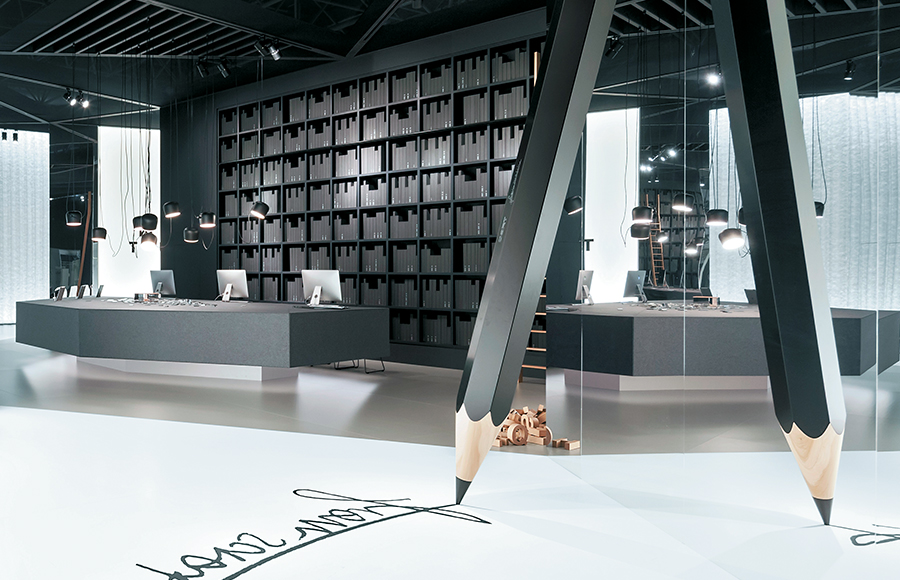 Creation Story
Designed to help attendees discover their own creative sparks, this exhibit for D'art Design Gruppe GmbH functioned as a playground for the imagination. One key element was a 15-foottall lacquered-wood pencil that appeared to have scrawled the words "from scratch" on the floor. However, the words were written backwards and only became legible via their reflection in the exhibit's mirrored walls.
Attendees found ample opportunities to play soon after stepping past one of the exhibit's five entrances. A pile of roughly 6-inch-tall, 3-D cardboard letters lay at the base of one wall, and booth visitors were encouraged to employ the anamorphic effect of the reflective surface to form words and phrases. Further inward stood an oblong table where attendees could use a tablet and stylus to sketch anything their hearts desired. Almost instantaneously, their impromptu creations were streamed to a massive video wall.
D'art also wanted to impress prospects with its own design chops. A 32-foot-wide shelved wall held a monochromatic library of custom-bound books that allowed interested attendees to peruse the firm's finished projects. Exhibit Design Awards judges were so impressed with D'art's experiential efforts that they accorded it the competition's highest honor for Exhibit Design and Graphic Excellence (aka, the EDGE Award). "A design agency has to craft a space that demonstrates its creative capabilities in a concrete manner," said one judge. "This booth delivers that in spades." E