Light seems pretty straightforward. There's bright, and then there's dark, right? But according to lighting technology provider Osram Opto Semiconductors GmbH, light is actually rather complex, and its applications are almost endless. So at Electronica 2016, Osram OS challenged designers from Studio Bachmannkern GmbH to create an exhibit that would celebrate light's complexities and display the firm's technology. The resulting 53-by-62- foot stand was a four-part ensemble that jurors called "a lovely composition that excelled in the art of contrast."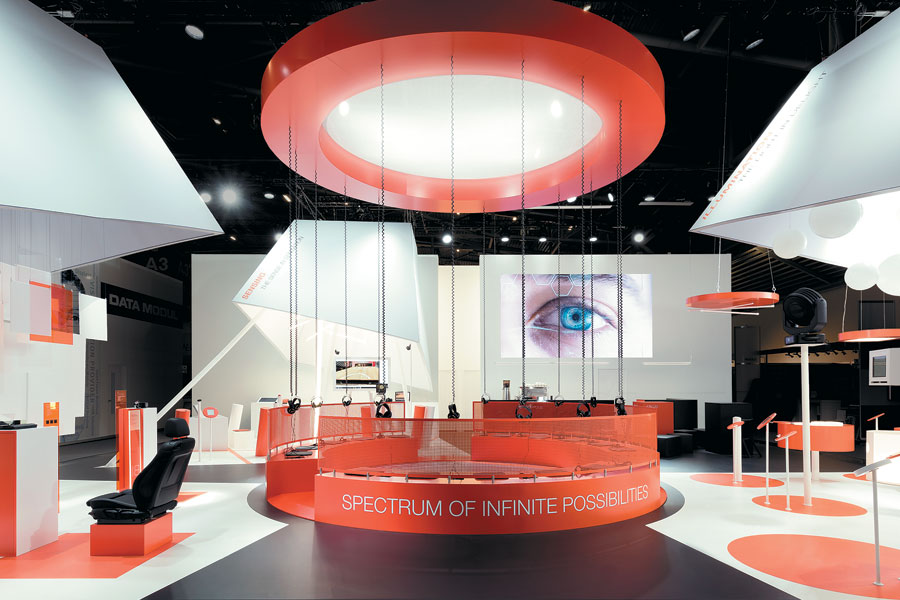 Light Refreshment
Constructed for lighting technology firm Osram Opto Semiconductors GmbH, this vibrant stand comprised four unique zones, each of which highlighted the firm's products and illustrated the versatility and complexity of light. Meanwhile, the exhibit's back right corner housed a hospitality area, where guests could relax and talk shop.
The exhibit's semitransparent scrim exterior featured the Osram OS logo and the words "spectrum of infinite possibilities." Inside, brightwhite hues danced with corporate orange, and four distinct zones displayed the products in action.
In the Illumination zone, an Osram OS projection unit, which attendees controlled via iPad, broadcast lights onto mounted white globes. The Visualization zone positioned left of the entrance presented flat, rectangular surfaces onto which Osram OS technology projected dramatic imagery. In the Sensing zone, an overhead structure housed multiple illuminated tubes within which light continually changed in intensity, creating a mesmerizing, pulsing effect.
The final zone took center stage, comprising an orange half-wall structure, ovular bench seating, and LED flooring that displayed animated lighting-related content. Here, attendees could unwind or dive deeper into the world of light via virtual-reality headsets.
Overall, the stand acted as a canvas upon which to display Osram OS technology. And according to designer Dirk Bachmann-Kern, "It turned light into art and showed attendees that there's more to light than meets the eye." E