Nippon Paper Industries Co. Ltd., a multibillion-dollar manufacturer of forest-based products, wanted to nullify a key concern within its industry sector, i.e., the clear-cutting of woodlands and the ensuing environmental impact. So going into the 17th Eco-Products show, the company hoped to convey the message that it is a responsible steward of the land. "Nippon also wanted attendees to experience a future in which mankind coexists with forests," said Hakuten Corp. designer Takumi Takahashi, who envisioned an exhibit that would transport booth visitors to the very woods Nippon manages while showcasing the breadth of the company's offerings.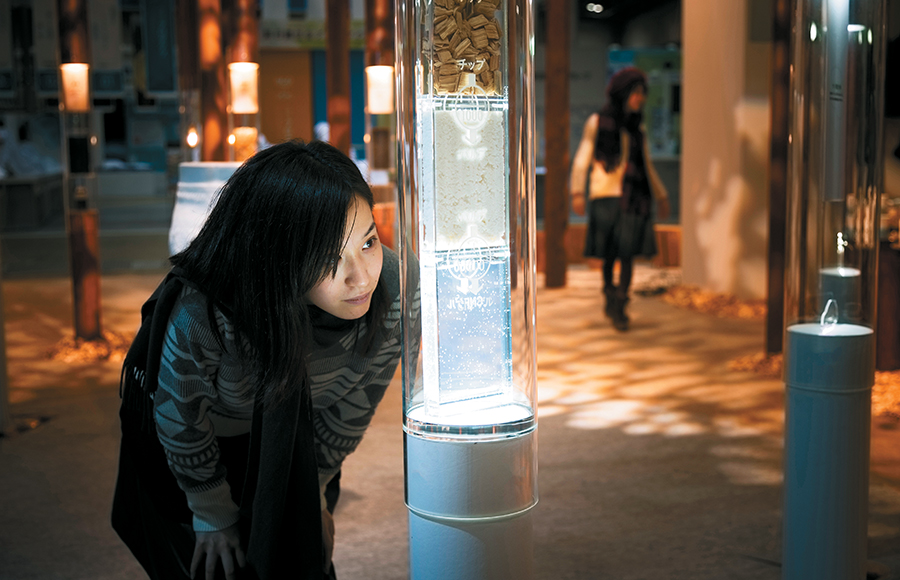 Paper Trail
Several of the 12-foot-tall trees that stood in Nippon Paper Industries Co. Ltd.'s exhibit featured clear acrylic inserts containing samples and graphics describing how the company processes raw lumber into myriad products and electricity.
To foster an arboreal ambiance, Takahashi used trees harvested from Nippon's vast acreage as the core design element in the 30-by-40-foot island exhibit. A grove of 14 real timbers towering nearly 12 feet tall supported a white overhead canopy and formed meandering paths further delineated by smatterings of wood chips atop brown carpeting. Some of the logs featured clear acrylic inserts containing graphics and samples, while shorter stumps were used as seating in a corner theater area.
In the portion of the stand devoted to Nippon's newest breakthroughs, Takahashi opted for a futuristic feel via gray carpeting and "trees" fabricated from glossy white substrate. To unify the contrasting aesthetics of the two areas, lighting elements created the effect of dappled sunlight filtering through a leafy canopy on the entire exhibit's ceiling and flooring. This astute use of dramatic illumination, coupled with Takahashi's incorporation of multiple textures, earned high praise from Exhibit Design Awards judges. "There's something utterly sensual about this space," said one judge, a compliment worth far more than the paper on which it's printed. E