Diaper pails and "sippy cups" aren't usually objets d'art. But in their work for Munchkin Inc., a provider of products for children and babies, designers at Unrivaled Inc. transformed these seemingly mundane materials into clever compositions that Exhibit Design Awards judges declared were "head and shoulders above all other product presentations in the competition."
Within Munchkin's 52-by-69-foot tensioned-fabric box, every step of the visitor journey was filled with surprise and delight, starting with the entrance. The entire stand employed a raised flooring system with blue carpet, interlocking tiles, and touch-activated LED light-up mats. But in the booth's entryway designers embedded Munchkin bowls, cups, and play mats into the Plexiglas-topped system. Inside the exhibit, the layout comprised a circular pattern, allowing salespeople to lead attendees on a linear product-story path, escort them to an area of interest, or travel directly to the lounge.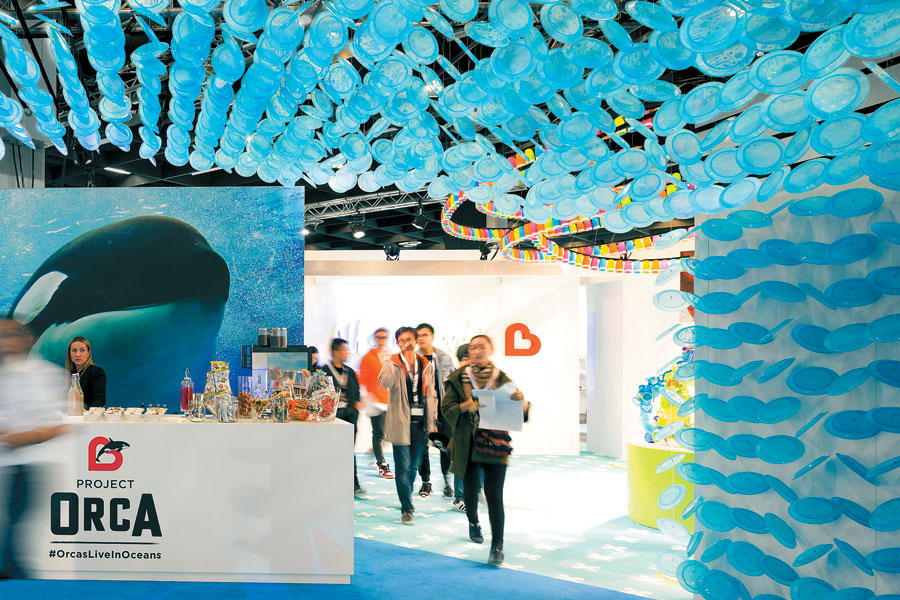 Munchkin Land
Featuring a circular traffic flow, sizeable lounge, and underlying blue color scheme, the Munchkin Inc. stand housed more than 10,000 products via inventive and onbrand displays that surprised and delighted attendees while positioning those products less as mundane objects and more as artful accoutrements.
Using this canvas as a framework, designers massaged more than 10,000 products into dynamic displays. Near the entrance, they molded an assortment of offerings into Munchkin's iconic heart logo. Overhead, four circular rings constructed with neon-colored cups became a couldn't-miss chandelier. Elsewhere, colorful 3-D logos seemed to burst from suspended diaper pails, and a veritable sea of blue plates rose up and rippled over the Orca Lounge referencing Munchkin's $1 million charitable contribution to an orca sanctuary.
According to Unrivaled's creative director Coty Creighton, the stand's success derived from his team's familiarity with the product. "We got our hands on all of the products to see how each felt, behaved, and interacted with our ideas," he said. "By trial and error, we married product with art." E