Gold award
Category:
International Designer
Exhibitor:
Denso Corp.
Design:
Denso Wave Inc., Chinagun, Japan, 81-3-5472-6931,
www.denso-wave.com
; Hakuten Corp., Tokyo, 81-3-6278-0010,
www.hakuten.co.jp
Fabrication:
Hakuten Corp., Tokyo, 81-3-6278-0010,
www.hakuten.co.jp
Show:
Seventh Educational IT Solutions Expo, 2016
Budget:
$40,000 – $79,000
Size:
18-by-24 feet
When exhibit house Hakuten Corp. was tasked with crafting this 18-by-24-foot stand for Denso Corp.'s Cobotta, an arm robot designed for nonindustrial applications, it sought to create a setting that was inviting, encouraged exploration, and reinforced key brand elements. So what better place to find inspiration than the robot itself, seeing as how Cobotta was specifically designed to appear as approachable and friendly as R2-D2. "By incorporating Cobotta's main design features, namely its graceful, rounded corners and soothing white color, I felt we could offer attendees who are unfamiliar with robot technology a unique, unintimidating space in which to learn and engage," said designer Satoru Utashiro.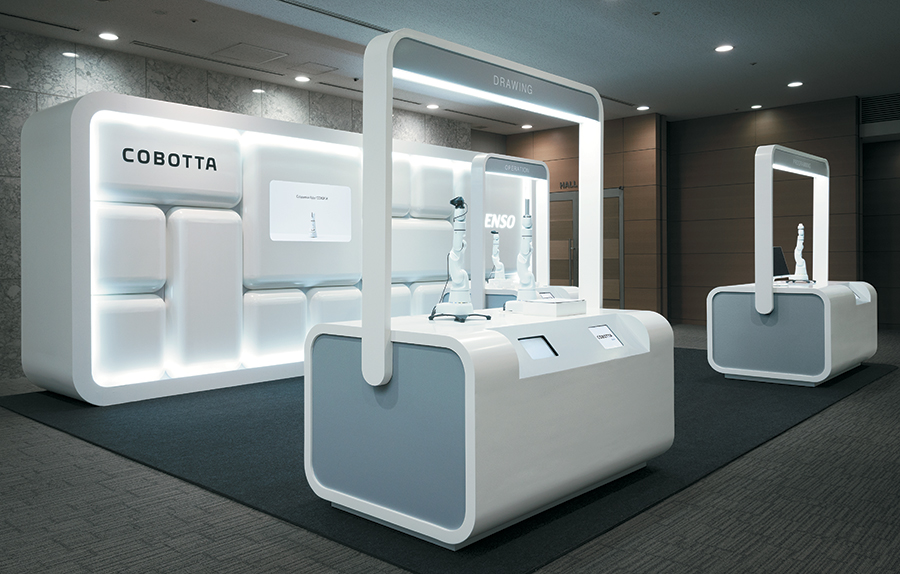 Curve Appeal
To make this exhibit for Denso Corp.'s Cobotta arm robot as unintimidating to technological tenderfeet as possible, designers at Hakuten Corp. used the automaton's soothing, white color and gentle curves as core elements in the stand's back wall and demonstration stations.
The exhibit's open floor plan was grounded by an 8.5-foot-tall back wall that ran almost the entire width of the space. Fabricated from wood and topped with milky white paint, the element featured square and rectangular shapes that were arranged in a Tetrislike composition – a nod to Cobotta's articulated assemblage and the robot's ability to stack variously shaped items with exceptional precision. Soft LED lighting along the wall's frame cast an ethereal glow, while a backlit cutout of the Denso logo and an embedded 50-inch monitor added visual interest.
The rest of the exhibit comprised three freestanding product demonstrations, sheathed in white acrylic and finished with rounded edges, where attendees were invited to get up close and personal with several Cobotta units. This consistency and purity of form struck a chord with Exhibit Design Awards judges, who proclaimed the exhibit "utterly elegant" and "nearly perfect," proving that inspiration is almost always within arm's reach. E