While preparing for EuroShop 2017, Atelier Damböck Messebau GmbH realized it had seemingly incongruous objectives. The stand-design firm wanted an exhibit that would not only attract attention and encourage visitors to spend quality time with Damböck staff, but also filter out gawkers and competitors. Nevertheless, Damböck designers met every aim in one fell swoop via an enclosed space with a buzz-worthy focal point – and barrier – across the entrance: a 7-by-20-foot wall of water.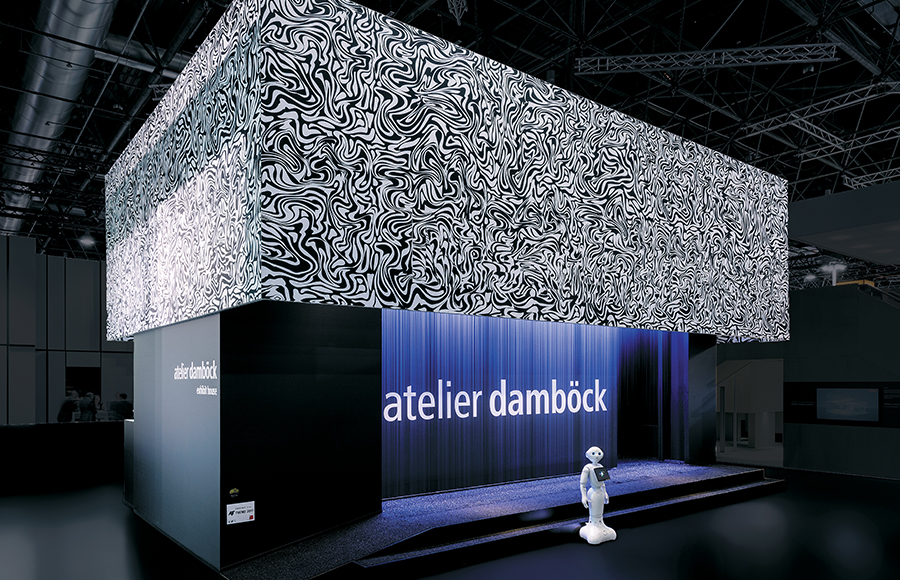 Corporate Umbrella
Umbrella-wielding staffers guided qualified guests through the 7-by-20-foot wall of water and into this enclosed exhibit for Atelier Damböck Messebau GmbH. Also available to greet visitors was Pepper, a crowd-gathering robot capable of conversing with attendees, recognizing the faces of important clients, and addressing them by name.
The 25-by-33-foot exhibit comprised a black-fabric box, whose only exterior adornments were graphics of the Damböck logo and a 6- foot-wide, black-and-white ribbon that capped the structure. While umbrellawielding staffers escorted invited clients and prospects inside the space, unqualified attendees remained in the aisles, typically lacking the chutzpah, not to mention the umbrellas, to invite themselves inside. "The wall was a natural filter," said Matthias Braun, Damböck's creative director. "It forced uninvited visitors to opt out of the experience; plus, it ensured staff and attendees were immediately immersed in intimate one-on-one conversations as they entered the stand."
Inside the space, guests discovered a multipart experience. First up was a virtual-reality encounter that plunged them into a vibrant forest scene where trees magically grew before their eyes. Next, visitors entered the hospitality lounge, which was a 3-D recreation of the VR scene. Thanks to strategic lighting, forest-themed wall graphics created a realistic landscape complemented by greenery, the smell of fresh moss, and the sound of twittering birds.
"Using water as a central design element was a gutsy move," said one Exhibit Design Awards judge. "But that gutsy move paid off, delivering a one-of-a-kind experience the trade show world has never seen before." E