PHOTOS: PADGETT AND COMPANY INC.
How do you bring a complex and sometimes intangible narrative to life in a way that resonates with attendees and lodges in their memory? Toshiba Global Commerce Solutions Inc. solved that conundrum at the 2017 National Retail Federation expo. By combining age-old storytelling with next-generation technology, the company effectively told the tale behind its Brilliant Commerce solutions, which satisfy consumers' increasing demand for personalization and information. "How we described the technology had to be as arresting as the technology itself," said Brad Falberg, president of Exhibitus Inc., which designed and fabricated Toshiba's 3,000-square-foot booth.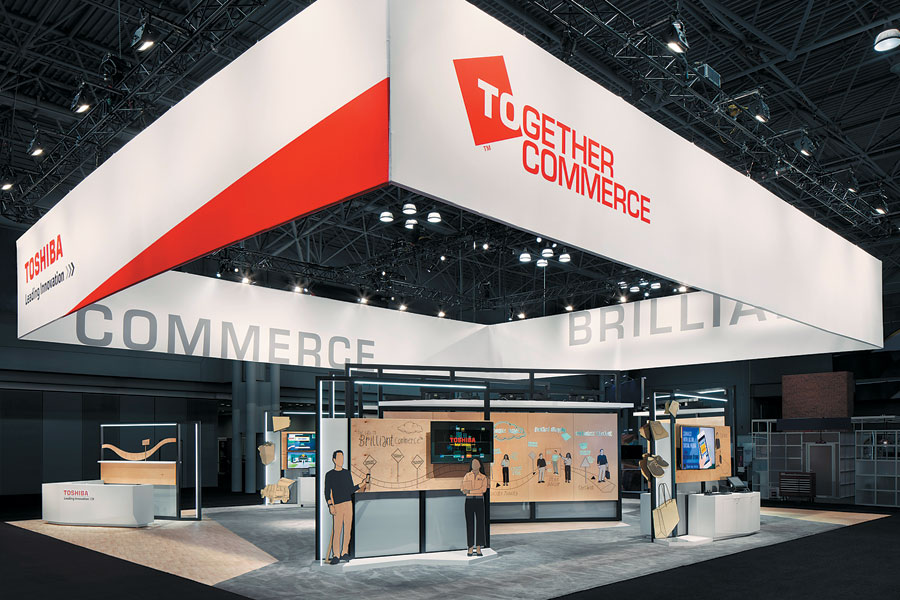 Motion Pictures
Using conductive ink that transforms simple drawings into electrical devices, Toshiba Global Commerce Solutions Inc. fashioned a touch-activated tale about how its retail technology can satisfy consumers' increasing demands.
The company created a trio of raw-wood walls, each of which contained several hand-drawn vignettes highlighting various aspects of Brilliant Commerce. Elevating the illustrations from conventional to captivating was the use of conductive ink, which effectively turns simple drawings into electronic devices capable of manifesting sound, light, and movement that can be triggered with a mere touch. "This was visual storytelling at its best," one Exhibit Design Awards judge said.
On one wall, staffers activated the pictorial narrative by pressing a finger to a picture of a customer picking up a shoe. Their fingertips prompted comet-like streaks of light signifying data traveling from the footwear to a monitor that came alive with more information. On another wall, a touch triggered an illustrated shopper to drive her halogen-bright SUV across the board to a big-box store where the TV she ordered online flew into the vehicle. While the full story played out on the wooden surfaces, staffers enriched the action by sharing additional details on Toshiba's technology. With stunning pictures worth the proverbial 1,000 words, Toshiba's conductive-ink walls were as dazzling as the Brilliant Commerce story they helped tell.E