PHOTOS: NEO INTERNATIONAL DESIGN & COMMUNICATIONS; ECZACIBASI BUILDING PRODUCTS (VITRA)
Exhibitors are often discouraged from bringing everything and the kitchen sink to the show floor. But in the case of Istanbul-based Eczacibasi Building Products (aka Vitra), that kitchen-sink strategy paid huge dividends. The bath fixture manufacturer splayed out its vast array of offerings among 11 shipping containers that each housed product vignettes. The jet-black metal structures, which measured nearly 20 feet long and roughly 8 feet high, were veritable blank slates. But when attendees stepped inside them via open sides or ends, they saw anything but empty space. Each container was staged to look like an actual room that had been plucked from a home and transported to the exhibit hall, replete with accoutrements such as towels and tchotchkes.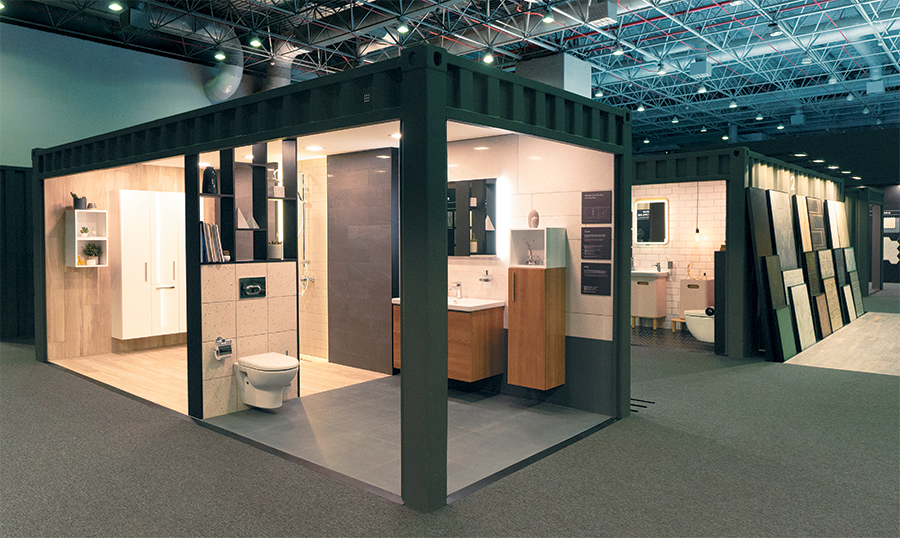 Containment Strategy
A transparent mesh wall separated Vitra's shipping-crate village from an expansive hospitality area in the rear of the exhibit where attendees could rest their feet, yet still glance at the product displays. Nearby meeting rooms were coated with a soft yellow hue that subtly beckoned attendees further into the space.
Designers' attention to creating visual intrigue continued outside the confines of each shipping container as well; colorful counter surfaces were propped up vertically with the assistance of 1-inch-deep divots in the exhibit flooring – a detail that Exhibit Design Awards judges appreciated. Meanwhile, the containers' exteriors featured recessed LED panel lights that emitted a soft, daylight glow over ancillary product displays.
Judges praised Vitra for its use of utilitarian items as the exhibit's building blocks. "Shipping crates were an ingenious way to create vignettes," one judge said. "It made the visitor experience almost like walking through a town of tiny homes." The containers also allowed Vitra to showcase the breadth of its portfolio without creating a haphazard design mélange. In other words, even though the individual elements comprising Vitra's exhibit may have been simple – stark shipping crates, soft lighting, and colorful products chief among them – the end result was stylish, sophisticated, and undeniably successful. E