In this online-only exclusive, Jay Menashe, CTSM and director of business development at Jack Morton Worldwide Inc., shares the four experiential-marketing trends he observed at VMworld, a trade show and conference focusing on cloud infrastructure and business mobility.
VMworld, one of the most influential information technology (IT) trade shows in the world, attracts more than 23,000 attendees annually. This year, I toured the show floor to investigate how companies are using experiential marketing to create meaningful conversations and generate quality leads for their sales and marketing teams.
One thing stood out: The best in-booth experiences were simple, creative concepts that attracted a crowd. They were not only unique, but also connected the product to the marketing messages. From competitions and games to memorable one-of-a-kind events, experiences that strategically had a purpose with a strong link to the brand came out on top. Having said that, four distinct trends stood out that businesses can follow when crafting an experiential strategy for their own trade show exhibits.
1. If you build it, they will come.
Several companies engaged attendees by letting them express their individual creativity. For example, Red Hat Inc., a software company that provides an open-source platform where users can build their own cloud communities, demonstrated its value proposition by creating an open-source Lego community. This meant that visitors were tasked to collectively build an actual little community. This included building content, documenting the work in progress, and sharing next steps and to-dos via Post-It Notes. It was a simple, collaborative execution that made it easy to understand Red Hat's messaging.
2. Gamification the old-fashioned way.
Games engage attendees, but they don't have to be flashy or use trendy technology. This year, several brands adopted the analog model – embracing what is old to make it new again. For example, CDW Corp., a hardware and software solutions provider, wanted to communicate its broad geographical reach. It created a cornhole-like game which was a map of the United States with holes to represent each of CDW's major offices. Players had 30 seconds to throw a beanbag into the corresponding city's holes to win a prize. To emphasize the different locations, the company added a hospitality element by serving food and drinks to represent each of the locations where CDW has a presence, such as BBQ from North Carolina. This was a unique storytelling component that resonated with guests. If I took a test today about where CDW has office locations, I would pass with flying colors.
Zerto Ltd., a software company that specializes in disaster recovery and business continuity, also embraced simple game play. To tie into a new product launch for Zerto 7.0 that boasts a tagline of "7 seconds to 7 years," the company used a vintage Las Vegas slot machine to bring the message home. Typically, brands gravitate toward more advanced experiential technology in exhibits, but in this instance, the old-fashioned lever (and players' goal of getting 777) made the experience all the more fun while making sure the product name and messaging were constantly at the forefront.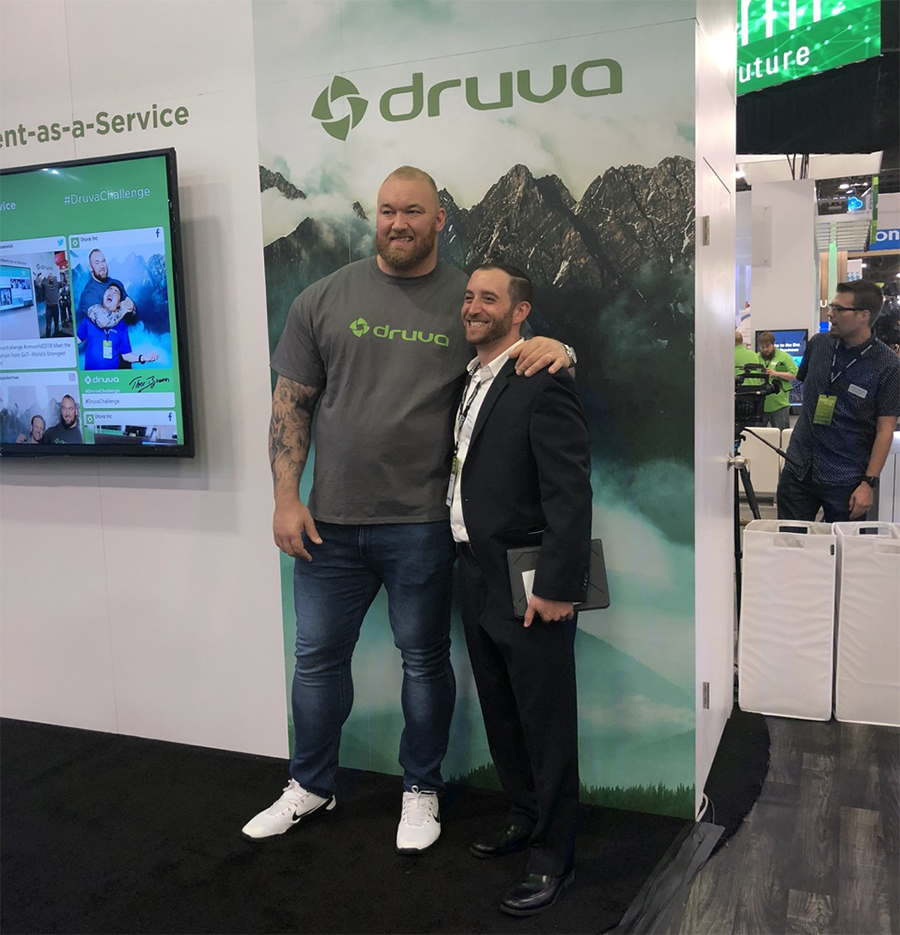 3. Multiple layers of engagement.
Want to keep visitors at your booth for hours? Follow what Druva, the data management as a service company, concocted. The brand created several touchpoints to help people understand what it does and how it does it. The tagline "Conquer Your Mountain of Data, Send your Data to Druva" was set up in two ways. First, an Xbox Kinect-like #DruvaChallenge game let players feel like they were virtually (and physically) climbing a mountain of terabytes. Then, to further emphasize that mountain of data, the company brought in The Mountain – the character from Game of Thrones. The chance to meet The Mountain (an Icelandic professional strong man and actor) combined with a book signing created lines around the booth and presented a great opportunity for the staff to interact with attendees.
4. Avoid the gimmicks if they don't tie back to the brand.
Sometimes exhibitors at trade shows think more about entertaining attendees rather than furthering a specific business objective. For example, I have seen gamification that existed only to generate leads or serve as trivial entertainment. But that approach often fails to make a longer lasting impression because it doesn't connect back to the brand's purpose or key messaging. Nostalgic gems akin to crowd pleasers like Price is Right and Wheel of Fortune are fun, but if they don't tie into the business lines, products, or solutions – or require any qualification to partake – they can fall flat. If, as an exhibitor, you feel compelled to use gimmicks to create meaningful, qualified leads, at least make sure your staff is prepared to ask a couple of simple and strategic questions upfront to capture and qualify the lead as a prerequisite for participation.
Overall, VMworld showcased many great experiences that delivered on its brand promise with proof, as well as a few that didn't. Considering a recent research study revealed that proof is one of the strongest indicators of brand health, actions and interactions with brands can make a larger impact than mere messages. A sophisticated, well-thought-out experience not only leaves a lasting impression on your audience, but also makes your salespeople excited to be there – and your marketers eager to dive into post-show data. Shouldn't that be the heart of every brand's exhibition strategy? E