10 Enterprise Avenue
Clifton Park, NY 12065


Phone:
518-664-8750
Toll-Free:
800-611-0431
Fax:
518-664-8667
Email:
info@creatacor.com
Web:
www.creatacor.com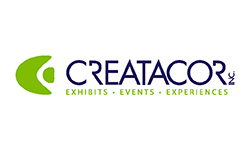 Company Description
Creatacor creates brands new spaces, collaborating with our clients developing exciting, interactive, entertaining and meaningful face-to-face, three-dimensional marketing environments! If you have space where you want to maximize the results we would appreciate the opportunity to show you what we offer. If it's a trade show exhibit, a private trade show or event, a mobile marketing activation, corporate show room, lobby or office environment, our team has the experience, creativity and partnering attitude to make it succesful. In addition, we are extremely service oriented and have earned a reputation for being an excellent value for our clients. We build marketing environments but first we build relationships.
Send a Quick Message
Follow Creatacor, Inc. on...
In the News
Our Quarterly Newsletter "Collaborations", Issue 18
The eighteenth issue of our quarterly newsletter "Collaborations" has been released.

Creatacor Red Cross Blood Drive – November 6th
We are happy to be holding our fourth Red Cross Blood Drive here at Creatacor on November 6th from 9 AM - 2 PM.

Job Posting: Graphic Production Designer
Creatacor, Inc. is currently seeking to hire a full-time Graphic Production Designer. Creatacor is the largest supplier of trade show and custom fabrication services in upstate New York.

Creatacor Named To Event Marketer's 2018 Fab 50
Event Marketer has just announced their 2018 "Fab 50" list which highlights the top fabricators serving the event and trade show industry in North America - and we are happy to announce that we've made the list again this year!

Creatacor Teams Up With Newbridge Marketing Group to Ignite L.L. Bean's Enchanted Summer Nights of Freeport, Maine
Rekindling old flames with past concepts and creating new, viable solutions is Creatacor's bread and butter. With this particular project, we LITerally had to rekindle old flames!

Products and Services
Company Video
As seen at EXHIBITORLIVE 2018
See us at EXHIBITORLIVE 2019, Feb. 25 - 27, booth #1414
Customer Testimonials
"You have some fantastic, dedicated folks working on your team. I am grateful to have them and Creatacor as partners."

"I wish I could clone you and work with you at every company I ever have to deal with!"

"We couldn't be as successful as we've been if it weren't for the great collaboration you and your team at Creatacor have shown us. Time and time again, you go above and beyond to deliver top quality results. Throughout the process, you've shown patience, dedication, enthusiasm and commitment. Your expert knowledge of what's possible to achieve and how you find solutions to every problem/issue we throw at you is invaluable to our own."