25 Mathewson Drive
Weymouth, MA 02189


Phone:
617-471-7990
Fax:
617-471-7914
Email:
cburton@hillpartners.com
Web:
www.hillpartners.com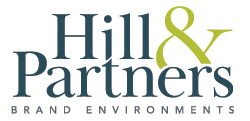 Company Description
Hill & Partners was founded in 1995, created as an alternative to the traditional transaction-centered exhibit house experience. Our goal is to deliver high-level design, production and account management services as a complete Branded Environment.

We believe that this approach elevates the client experience within the face-to-face marketing space and we have remained committed to those original intentions for twenty years, designing countless one-of-a-kind experiences along the way.

Our teams have produced and installed thousands of unique spaces and places throughout the United States and on six continents. Today, we continue to work closely with our clients to address their long-term brand objectives without sacrificing predictable investment costs or the essential need for flexibility.
Send a Quick Message
Follow Hill & Partners, Inc. on...
In the News
Stand Out with Trends from EXHIBITORLIVE 2019


Scenes from EXHIBITORLIVE 2019
Our team had a BLAST at

Find Your Fit


What to Expect at EXHIBITORLIVE 2019
If you're an event and trade show professional, we know you live and breathe ...

Working Internationally: Buenos Aires, Argentina
Our People work anywhere in the world in support of ...

Products and Services
Company Video
Customer Testimonials
"Once again, Hill & Partners outdid themselves on our behalf at the TGA show this year. The re-designed Samsonite booth really helped showcase each one of our brands and their unique product offerings. As always, the level of service the team provided was second to none." - SAMSONITE

"As marketers, we've all been there - you approach a company for a new booth proposal, and you end up flipping through catalogs of booths they've created for someone else. Hill & Partners is the only exhibit company we've ever worked with that didn't do that. They took the time to get to know our team, learn about our company, and truly understand our brand before proposing a booth. The experience was like nothing we've ever seen before! It was as if they knew our brand as well as we did and were as passionate about it as we are. They far exceeded our expectations and response to our branded environment has been phenomenal. We couldn't ask for a better partner." - VISION WEB