7602 Business Park Drive
Greensboro, NC 27409


Phone:
336-232-4800
Toll-Free:
800-478-2324
Fax:
336-217-2753
Email:
denise.lineberry@applerock.com
Web:
www.applerock.com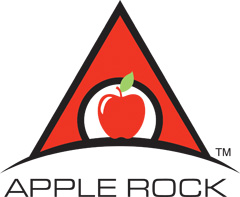 Company Description
Since 1988, Apple Rock has been an award-winning designer, builder, innovator; and one of the fastest growing Event Marketing companies in the country. With offices in both North Carolina, DC area, New Jersey and Las Vegas, our expansive East Coast & West Coast operations serve as a strategic advantage for us and an enormous benefit to our customers who have trade shows nationwide. Now, we can provide our clients everything from booth storage and rentals to full-service event logistics & show services anywhere in the country.
Apple Rock has earned multiple national business and design awards, including EXHIBITOR Buyers Choice, Marcom, Hermes, INC500/5000, Business Leader and the SHARP Award by the Dept. of Labor. Since 2011 Apple Rock was honored with the SHARP Award by the Department of Labor, part of the Safety and Health Achievement Recognition Program; one of only 103 sites in North Carolina.
Send a Quick Message
Follow Apple Rock on...
Products and Services
Company Video
As seen at EXHIBITORLIVE 2019
See us at EXHIBITORLIVE 2020, March 29 - April 2, booth #643
Customer Testimonials
"We cannot say enough of how much we appreciate Apple Rock. Our artners were very pleased with you and understood our push to use you. So, thanks again... we are some of your biggest fans!"
~Marty Kennedy, COO @ Stadler America, LLC.

"Highly recommended. They were able to achieve all of our goals within our budget and knocked it out of the park."
~ Scott Jordan, CEO @ SCOTTeVEST

"Apple Rock has created a beautiful and functional space for our organizations to utilize for both day-to-day work and for entertaining and events. Their attention to detail, use of quality materials, and implementation of design elements that convey the history of the Underwater Demolition and SEAL Teams is second to none."
~ Sara Berry, Director of MarComm @ Navy SEAL Foundation

"I cannot say enough about the customer service that Apple Rock provided. I would recommend them to anyone and we will definitely be using them moving forward."
~ Rachel Joyce, Marketing Manager @ SCM Group