3455 West Sunset Road, Suite A
Las Vegas, NV 89118


Phone:
888-710-2525
Toll-Free:
888-710-2525
Fax:
702-227-4093
Email:
john.villari@cort.com
Web:
www.cortevents.com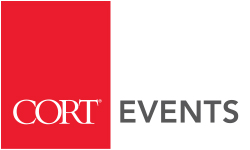 Company Description
From your largest shows to premier clients, CORT Events is your trusted resource for high quality stylish rental furnishings, 3-D product renderings, and seamless delivery. Start with confidence and let our experienced professionals help turn your next show into an event that engages, excites and brings your vision to life. Our national distribution, 24/7/365 service, and iconic, modern collections guarantee a successful show anywhere.

CORT's exclusive products include the Endless collection, new powered Tech Tablet Chair, powered Ventura Communal Bar Tables and Arcadia Executive and Guests Chairs; all designed specifically for the needs of exhibit professionals.
Visit www.CORTevents.com to explore the full product catalog. Or contact a CORT solutions expert today at 1.888.ONE.CORT.
Send a Quick Message
Follow CORT Events on...
In the News
Products and Services
Company Video
Company Catalogs/Literature
As seen at EXHIBITORLIVE 2019
See us at EXHIBITORLIVE 2020, March 29 - April 2, booth #401