5465 SW Western Ave., Suite B
Beaverton, OR 97005


Toll-Free:
800-901-5220
Fax:
800-901-5230
Email:
info@nadisplay.com
Web:
www.nadisplay.com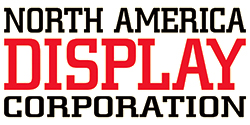 Company Description
Partner with NA Display and WOW! your customers. Promise a display. And, deliver a masterpiece.

Since 2002, NA Display has backed its resellers by supplying innovative display solutions with accessible, personalized service. We are your dependable partner in the fast-paced, evolving world of brand communications.

We equip our resellers with the best in trade show displays, light boxes, SEG frames, hanging banners, banner stands, feather flags, and street pole banners.

Under one roof, we can take your customer's project from start to completion with in-house design, full CAD prototyping, 3D printing and, our specialty, large format fabric printing.

We have the unique capacity to get big jobs done in a timely manner; yet we are personalized enough to get to know the individual needs of each reseller, spot potential order problems and provide solutions.

Change your view. The sky is not the limit. We're NA Display, your partner for success.

Send a Quick Message

Company Video

As seen at EXHIBITORLIVE 2019
See us at EXHIBITORLIVE 2020, March 29 - April 2, booth #1301

Customer Testimonials
"Jennifer, thank you so much for all your hard work to make our show happen. We need more people like you in this world—patient, gracious and thoughtful with a "can-do" attitude."
LaKeta

"Jennifer, thank you! I have to say I was very impressed when I called in on Friday night expecting a machine and actually got a human being! Your company gets five stars in my book. . ."
Susan
Customer Service
ThinkGiveAways.com
Custom-Printed-Tents.com

"Jennifer, you walk on water!"
Sherry Weinstein, Anything Display

"Thank you, I will try to push especially our West Coast clients your way. We would prefer doing business with you and your team over some of your competitors out there because Sylvan is more confident in your problem solving abilities and customer service. I hope to be in touch very soon with an order." Nicholas R. Kulp
Airborne Visuals

"I want to take this opportunity to thank you for your helpfulness and for your prompt attention to my request. You were a pleasure to visit with over the phone. Have a great day."
Elaine Myers
Marketing Assistant
Lowen Color Graphics