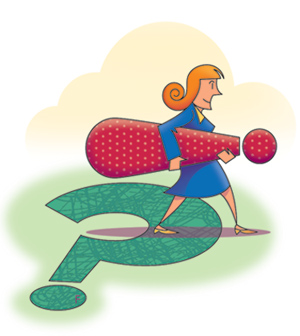 ILLUSTRATION: MARK FISHER
Q.
Do we really need to purchase insurance for our exhibit? And if so, what is available?
A.
Every exhibit-marketing program is different, so to devise an answer suitable to your situation, first ask yourself: If your exhibit shipment were lost, stolen, or damaged, how would it be replaced or repaired? Which department's budget would the funds come out of, and is it a budgetary hit that department or even the company could take easily? Also, what about your program? If your exhibit went AWOL, would you have funds in the departmental budget to purchase or rent another booth immediately, or would you have to forfeit deposits already paid at upcoming shows and with related vendors?
If the potential outcomes of such a disaster cripple your program or your company, which is most often the case, it's probably best to secure some type of insurance. And keep in mind, transportation carriers are not insurance companies. As such, they normally assign a valuation to your freight that is often a fraction of its true value and will only reimburse you for this amount if your shipment is damaged or lost. So to help you decide what category of insurance coverage is right for you, here's a brief primer on the four most common types of coverage.
➤
Released Value or Limited Liability:
This is the valuation coverage typically included in your basic transportation charge. Often, you're only covered for $.30 to $.60 per pound per article, and you'll only be paid if the damage or loss occurs when the shipment is in the shipper's control, i.e., while in transit. Plus, you'll need to prove when the loss or damage occurred, which is frequently difficult.
➤
Additional Valuation or Trip Transit Coverage:
This coverage is sold by the carrier in increments of $1,000 and covers the freight only while in transit on a specific trip. Although generally inexpensive, at roughly $10 per $1,000 in coverage, it leaves you in the lurch if damage or loss occurs in the advance warehouse or on the show floor. And if the mishap happens during the loading or unloading of a shipment, you fall into the gray zone of responsibility, as the dock workers and transportation-company reps will usually point the finger at each other.
➤
All-Risk Insurance (aka Door-to-Door Coverage):
All-Risk Insurance is often sold as a rider on your corporate insurance policy, by an outside specialized agent, or as an add-on by your carrier through an insurance company. While more expensive than the previous option, it covers the shipment from the time it is loaded onto the truck at the point of origin, during transit, through the duration of the show, and during return transit until unloaded. This type of coverage can generally be purchased either per show or on an annual basis.
➤
Special Corporate Policies:
Some corporations have umbrella policies that cover the company's assets any time they are not at the primary corporate location, which may provide coverage for exhibit properties. But be sure to carefully investigate your policies' fine print. With some, you'll pay a sizeable deductible, and only 10 percent of a corporation's total assets are covered off site at any time. An important side note: If your exhibit is stored off premises, i.e., at an exhibit house, make sure it is included in your corporate policy, because exhibit firms typically don't cover it as part of your overall storage cost.
Exhibit insurance is often considered a necessary evil, not unlike drayage and labor. However, armed with the aforementioned info, you should be able to select the right coverage for your risk-related needs.
— Candy Adams, CTSM, CEM, CMP, CMM, trade show consultant, Vista, CA