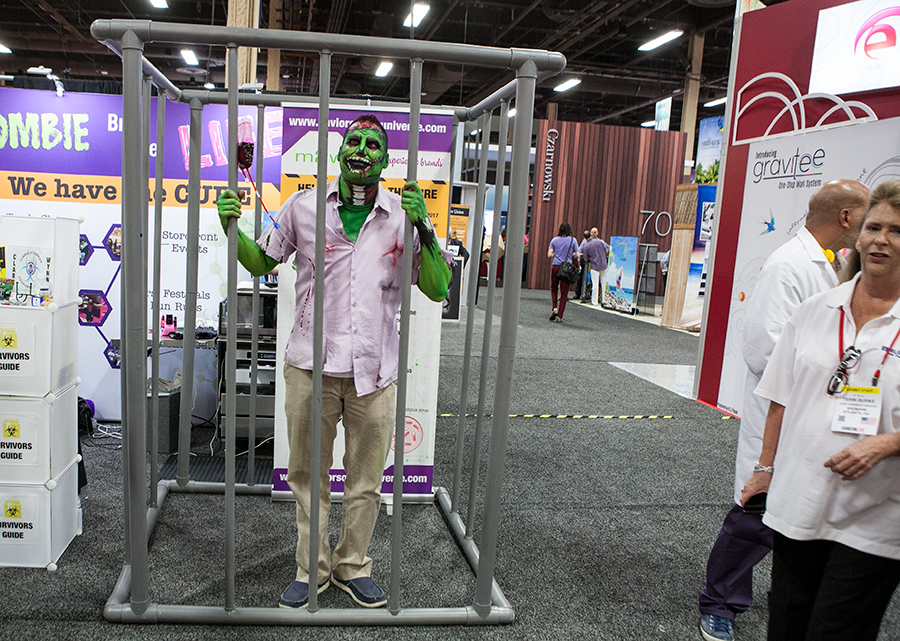 Event-Marketing Epidemic
M2W Inc. deployed an aisle-side attention-getter to urge EXHIBITORLIVE 2017 attendees to avoid becoming marketing zombies and bring the life back to their events. A cage-like enclosure housed a staffer dressed and body painted to look like a creature from "The Walking Dead." Nearby graphics informed onlookers that the unfortunate chap had contracted the Zombie Marketing Virus (symptoms include a fake smile, faraway stare, monotone speech, and unwillingness to move). Booth visitors were encouraged to take a photo with the "test subject" and upload it using the hashtags #M2WInc, #DontBeAZombie, and #EXHIBITORLIVE2017. In return, participants received a customized screen-printed T-shirt. The zombie-themed space generated scores of social-media impressions and helped M2W educate attendees on how it can help inoculate their exhibit-marketing programs against the ravenous viral epidemic.
---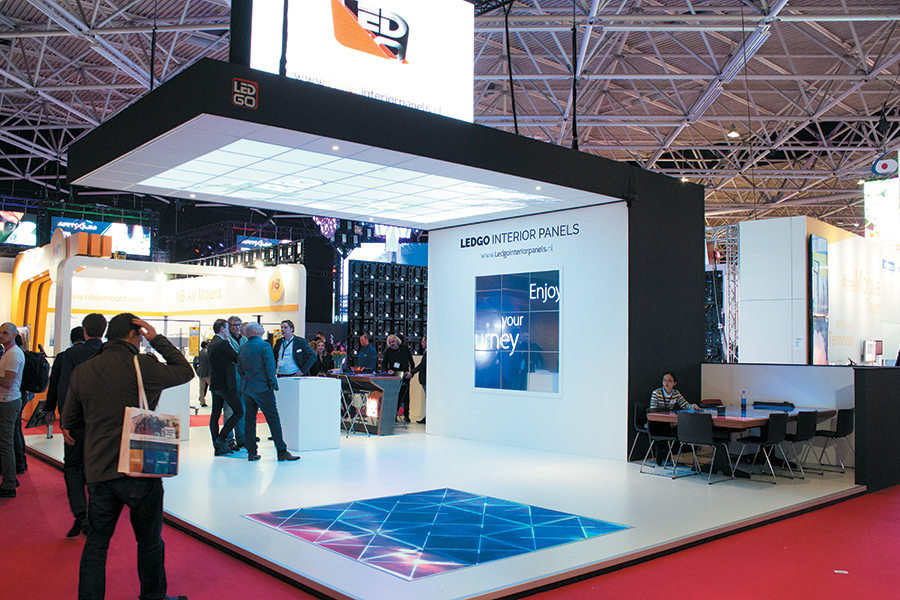 Panel Discussion
LED panels can set any scene and evoke any mood. But displaying their capabilities on the trade show floor – especially one like Integrated Systems Europe 2017 in Amsterdam, which was awash with multimedia masterpieces – can prove as difficult as herding cats. Not so for LedGo BV, however, which created an LED installation that gave attendees new perspectives on how the technology can be incorporated into a variety of architectural spaces. By applying its LED panels to the exhibit's floor, back wall, overhead canopy, reception desk, and conference room table, the company adeptly demonstrated the product's versatility. Meanwhile, a barrage of high-impact imagery ranging from space-themed scenes to outdoor environs made the back wall a window into another world and turned the overhead canopy into a surreal skylight.
---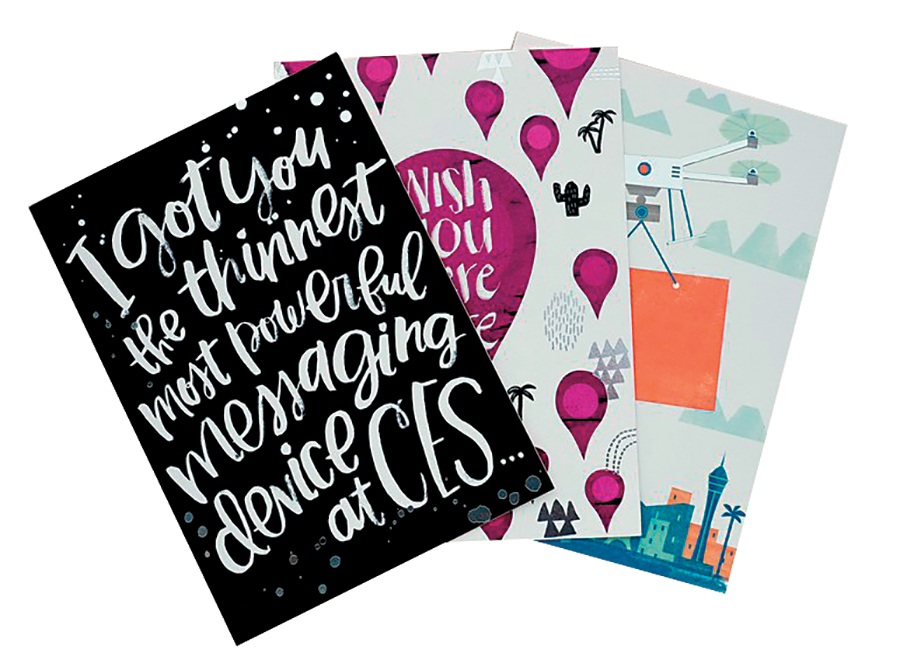 Meet and Greet
Personalized promotional items have a higher perceived value than mass-produced tchotchkes. But even if you print someone's name on a pen or T-shirt, it's not exactly customized to the attendee's preferences – unless, of course, you're letting them design it themselves. That's why American Greetings Corp. LLC's personalized giveaways were such a hit at the 2017 International Consumer Electronics Show. Instead of simply printing attendees' names on one of the company's greeting cards, staffers invited visitors to sit down with an illustrator, talk with him or her about someone they'd like to send a special card to, and work with the artist to create a one-of-a-kind greeting. When each customized card was finished, attendees walked away with a valued takeaway and a greater appreciation for the company's products, as well as the people and processes behind them.
---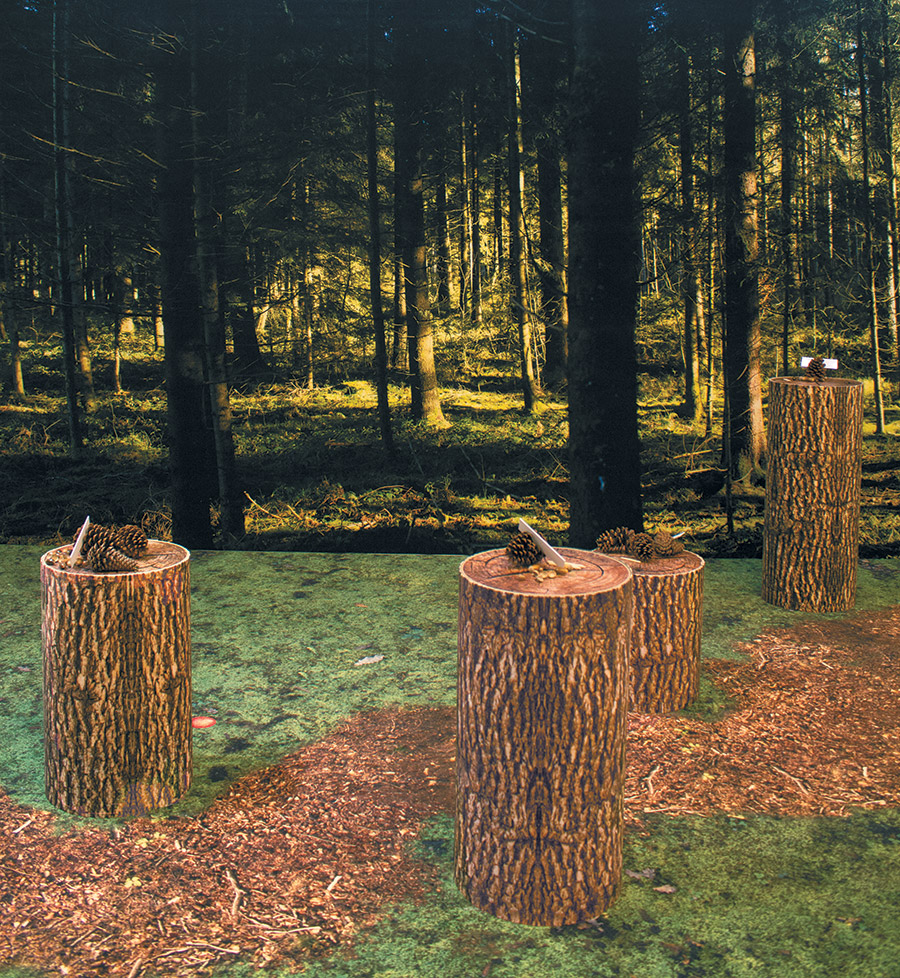 Forest Floor
Sometimes the key to successful exhibiting is helping attendees see the forest for the trees. Such was the case for S-Print NV at Euro- Shop 2017. To showcase the quality of its printing capabilities, the company created a fabric forest comprising carpet printed to resemble a leaf-strewn pathway, stools covered in graphics designed to make them look like tree stumps, and a large-format fabric graphic that turned the booth's back wall into a lush, wooded landscape that seemed to extend beyond the confines of S-Print's booth space. The immersive illusion created a surreal ambiance that practically demanded passersby to enter and explore. In fact, many reached down to touch the flooring and stools to confirm they were made of printed material. Ultimately, the faux forest allowed the company to demonstrate its proficiencies – and helped potential clients see the big-picture potential made possible by the firm's printing prowess.
---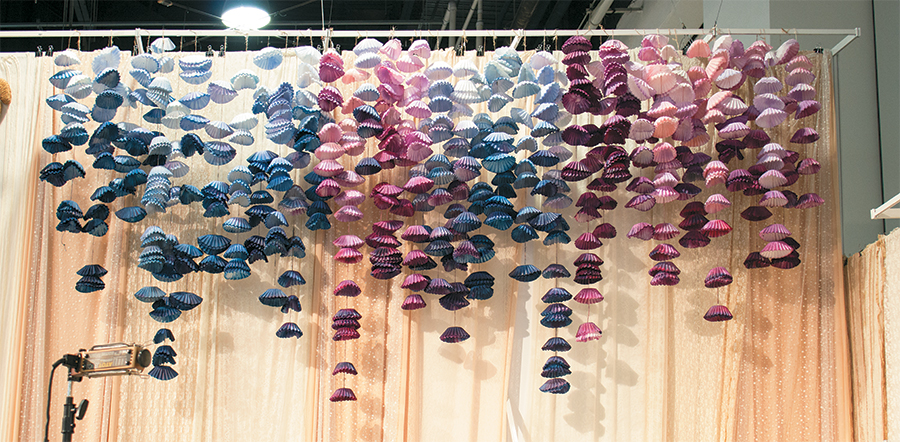 To Dye For
Overhead elements are few and far between at Magic, a fashion-industry trade show held twice a year in Las Vegas, but Ryu Collection's whimsical aerial display would have attracted attention regardless of the competition. To complement its diaphanous line of women's wear, the Los Angeles-based brand hand-dyed hundreds of humble coffee filters in warm and cool hues, strung them together on lengths of twine, and hung them over the back wall of its booth. Much more than the sum of its parts, the installation lent the exhibit an almost ethereal ambiance and certainly captivated all who passed by.
---
Super Model
Miniature product models are nothing new on the trade show floor. But at the Hospitality Design Exposition and Conference in Las Vegas, Hospitality Designs took that concept a step further. The maker of a variety of hotel furnishings constructed miniature models of a dozen of its nightstands and nestled those downsized replicas in cube-like shelving that spanned the width of the exhibit's back wall. The simple strategy let attendees see myriad models that wouldn't have otherwise fit within the exhibit, while the mini motif made for an attractive and unexpected in-booth display.
---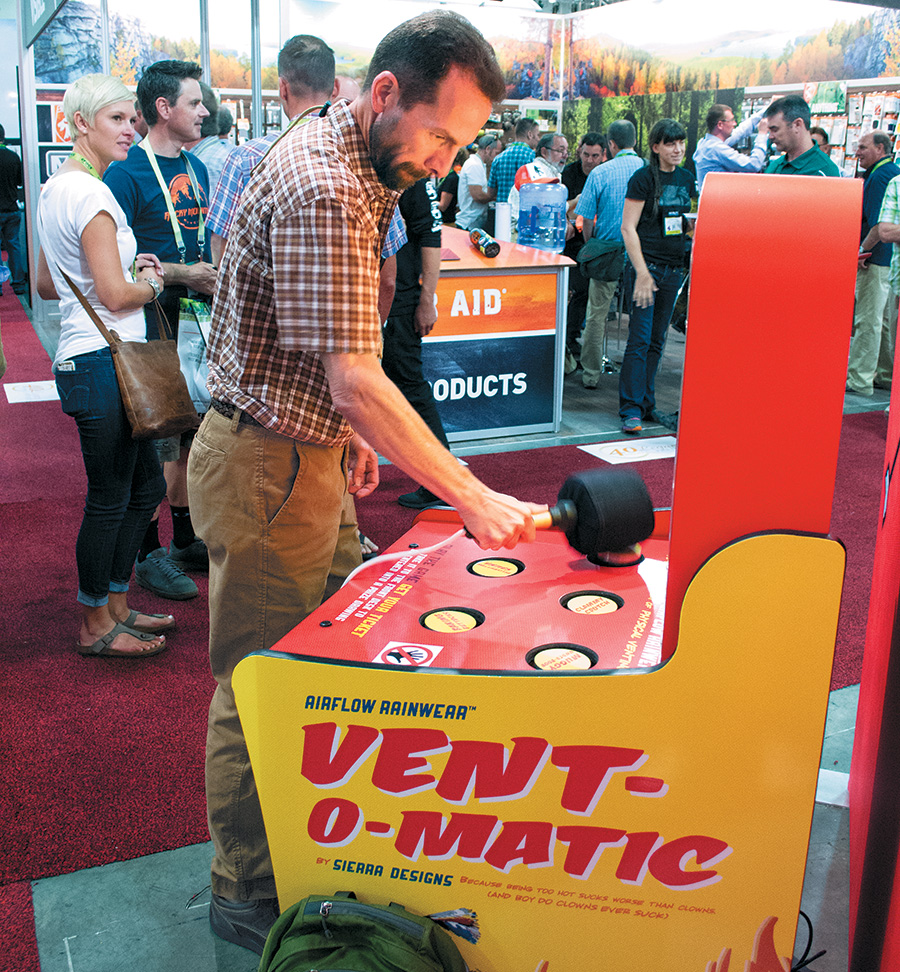 A Smashing Idea
One of outdoor enthusiasts' biggest challenges is finding clothes that keep them warm and shield them from the elements but aren't so bulky and insulating that they overheat. So to emphasize how its Airflow Rainwear jackets' physical venting features help protect wearers from the rain without locking in perspiration, Sierra Designs, a division of American Recreation Products Inc., invited attendees at the Outdoor Retailer Summer Market to knock out their sweatiest nemeses. A game console, dubbed the Vent-o-Matic and styled after the popular Whac-a-Mole arcade game, was situated at the front corner of the exhibit. Each of five knobs bore the name of a problem that Sierra Designs' target audience wrestles with: Bellybutton Sauna, Balmy Pits, Clammy Crotch, Muggy Under-Boob, and Baking Buttocks. Attendees grabbed a black mallet and attempted to knock down as many of the knobs as possible within the allotted time. Regardless of their results, all players received a ticket, which they could then take to the exhibit's reception desk to be entered into a prize drawing. The result? Sierra Designs attracted a throng of players and curious onlookers – not to mention qualified leads – without even breaking a sweat.