If real estate success hinges on location, location, location, then this stand for German communications agency Fairnet GmbH pivots on arrangement, arrangement, arrangement. According to judges, the 30-by-33-foot exhibit is "basically just a whole bunch of boxes. But it's the way in which designers organized and orientated the shapes that created a standout design."
Crafted by Fairnet, the cubist construct was born of the firm's 2016 ad campaign, which featured a lime-green cube and the phrase "Borders redefined." "So for EuroShop, we set out to redefine attendees' perceptions of what simple shapes and a bit of creativity can do," said Torsten Poehlemann, director of sales and marketing at Fairnet.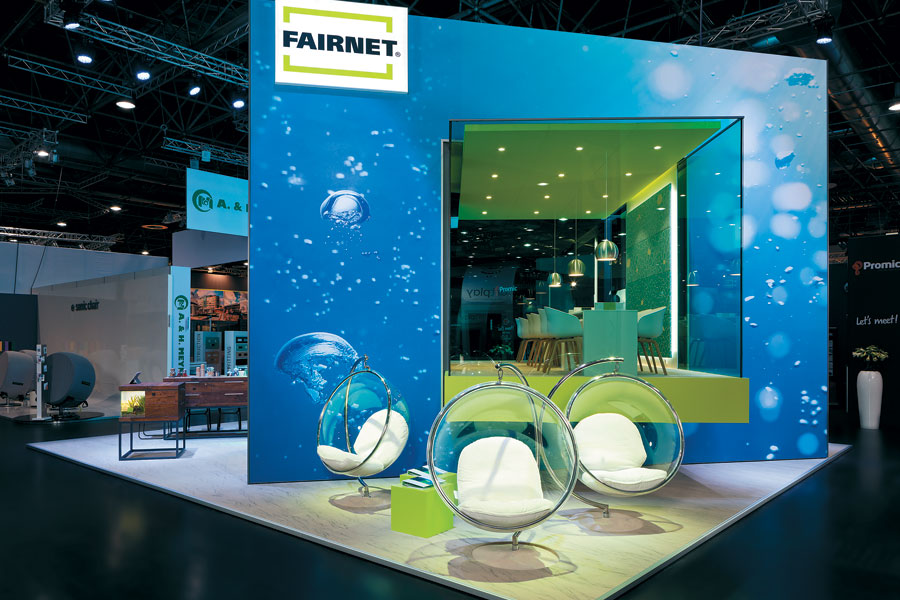 See Level
Fairnet GmbH crafted a boxy, aquarium-inspired design featuring a massive LED wall with undersea imagery and a couldn't-miss conference room. Comprising glass walls and positioned as the exhibit's centerpiece, the contemporary enclosure (and its guests) became a focal point for passersby.
Designers positioned a 6-by-26-foot structure, which towered 20 feet tall, diagonally across the booth space. Within that element, Fairnet inserted a 10-by-13-foot enclosure, dissecting the taller structure at an angle. Made mostly of glass, that enclosure rested roughly 5 feet above the ground and housed a contemporary meeting space that was accessible via a staircase in the side of the larger element. Given the enclosure's glass walls, the resulting design created a sort of fishbowl effect, where guests inside were immune to the show-floor mayhem, but passing attendees could easily ogle its occupants.
The fishbowl theme continued on the exterior. Fairnet covered one side of the larger structure with massive LED screens featuring undersea imagery. Designers also attached a diffuser foil with ocean-related prints to the front of the wall, adding a sense of depth to the digital content. Meanwhile, the back wall of the structure was clad in a fabric graphic with what appeared to be bubbles rising amid a brilliant blue sea. Combined, the aquarium theme and impeccable arrangement captivated attendees, giving Fairnet a seemingly unfair advantage.
E