experiential exhibit
Exhibitor:
CareerBuilder LLC
Show:
Society for Human Resource Management Annual Conference and Exposition
Size:
30-by-30 feet
Challenge:
Although CareerBuilder offered numerous services for the human-resource sector, market surveys showed that many HR reps perceived the company as being little more than a job board.
Solution:
To capture and hold showgoers' attention in a frenetic exhibit hall and quickly educate them about the company's offerings, CareerBuilder erected a "mystery black box" inside which it screened a highly produced film about its capabilities.
CareerBuilder LLC had an image problem, and Traci Saliterman needed to solve it. No, the company wasn't embroiled in a tax-dodging scandal or under fire for some other unscrupulous business practice, and Saliterman wasn't a public-relations spinmeister or a high-priced "fixer." She was CareerBuilder's experiential marketing manager, and the issue at hand fell directly in her wheelhouse.
Although CareerBuilder bills itself as a "global, end-to-end human capital solutions company," numerous surveys showed that its target audience of corporate human-resource directors and personnel viewed it as more of a one-trick pony than a one-stop shop. "CareerBuilder was primarily a job board when it was founded in 1995," Saliterman says. "Even though we've expanded our HR services to include everything from providing labor-market data to streamlining background checks, the research told us that employers still think of us as 'the monkey company' because of our old Super Bowl ads." So while the 2005 commercials in which business-attired chimpanzees playfully wreaked havoc on an office only ran for 30 seconds, it seemed the impression they made – that CareerBuilder's website was little more than a destination for job seekers – had remarkable staying power.
CareerBuilder executives were determined to correct this existential imbroglio and gave Saliterman her marching orders for the 2018 Society for Human Resource Management Annual Conference and Exposition (SHRM), the most important brand-building event on her exhibiting calendar: change as many attendees' perceptions of the company as possible. In other words, Saliterman and her team would have to toss their usual approach out the window and start from scratch.
Black Box Theater
To fully comprehend the challenge that lay before Saliterman, one needs to understand SHRM. The show floor is a crowded maze of hundreds of exhibitors and roughly 20,000 high-energy HR professionals who are notoriously eager to load up on as much swag as possible. Everywhere you turn are prize wheels, raffles for Coach and Dooney & Bourke handbags, and long lines for custom-printed T-shirts. "To put it mildly, SHRM is not conducive to deep-dive demos or in-booth appointments," Saliterman says. "There are too many attendees that we need to get through our exhibit as quickly as humanly possible."
Historically, CareerBuilder's SHRM stands were designed to reference the show city, e.g., an amusement-park theme for Orlando, FL, a festive Mardi Gras atmosphere for New Orleans, etc. The tactic generated reliable traffic, but Saliterman suspected that repeating it at SHRM 2018 in CareerBuilder's hometown of Chicago would fail to deliver the opinion-shifting results she required. She needed an exhibit concept that was bold, attention grabbing, and capable of shutting out the frenetic show floor so attendees could focus on CareerBuilder's capabilities-centric messaging.
REEL TIME
CareerBuilder LLC erected a black box theater space in which to screen an elaborate film that emphasized its full capabilities.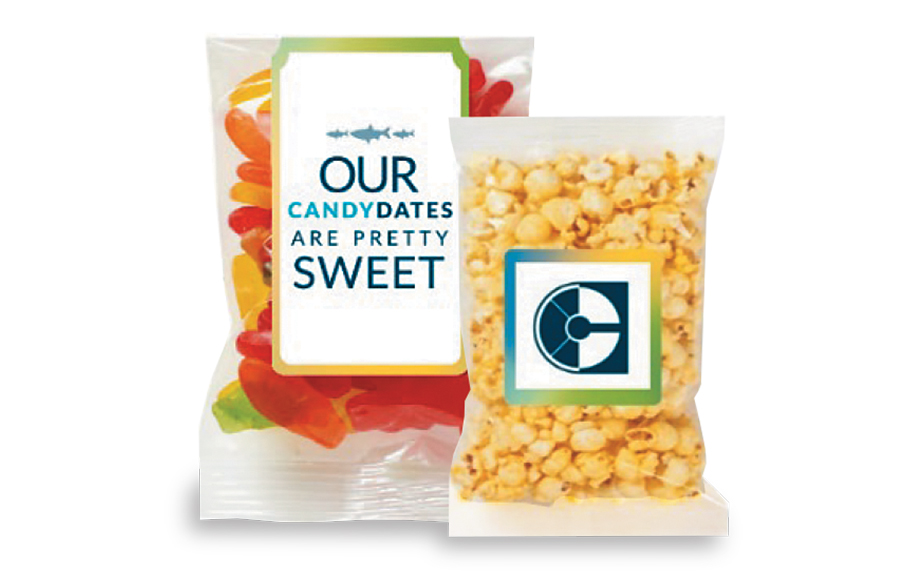 Staffers posed trivia questions to waiting attendees, and those who answered correctly received bags of popcorn and theater-style candy.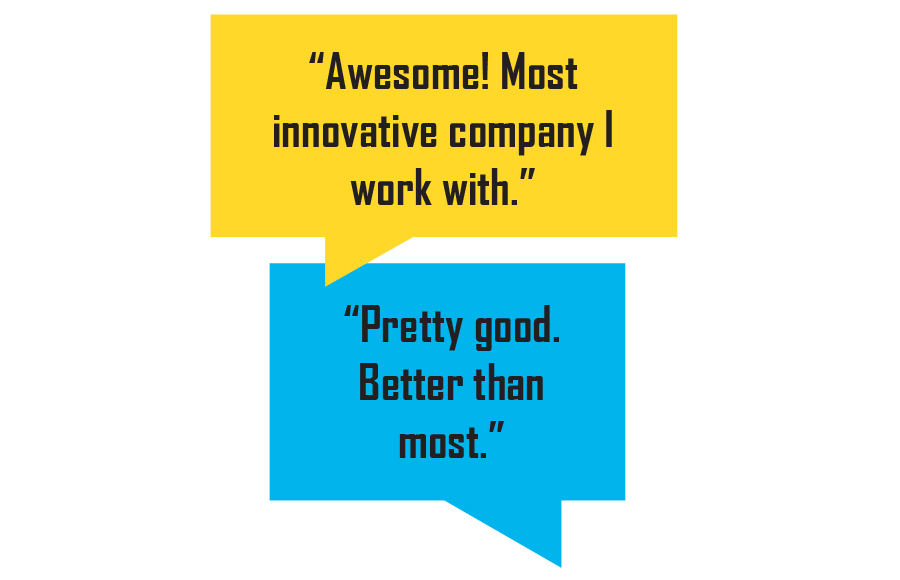 During the survey, booth visitors were asked to pick one of five statements that best described how they felt about the company.
Ironically, by thinking outside the box, Saliterman and her team arrived at just that. "We immediately latched onto the idea of the exhibit being an elusive black box," she says. "It was mysterious, enveloping, and completely different from anything we'd done before." The concept was certainly intriguing and seemed capable of stoking curiosity and quieting the show-floor din, but a fundamental question remained: What was going to take place inside this cryptic cube?
To arrive at an answer, Saliterman met with the creative team at P3 Mediaworks Inc., a Chicago-based video-production company that has been CareerBuilder's go-to agency for numerous internal and external multimedia projects, and briefed them on her concept and messaging mandate. "The idea of a sort of black-box theater with a line of people waiting to get inside sounded so cool and almost like an exclusive nightclub," says Curtis Gilbert, P3's co-founder and executive producer. "But what was immediately clear to us was that what happened inside this space had to live up to the hype."
Numerous high-tech storytelling mechanisms, including virtual and augmented reality, 360-degree video, holograms, and projection mapping, were discussed and ultimately discarded due to either budgetary or logistical constraints. "SHRM is a numbers game, and there were concerns that having attendees fumble with headsets or other devices would slow things down," Saliterman says. "We needed to get a large volume of attendees into and out of the space but still deliver a powerful, memorable message."
The creative minds at P3 Mediaworks Inc. proposed an idea that would offer an immersive attendee experience and a high rate of participant turnover: a film about CareerBuilder's services.
The creative minds at P3 then proposed an approach that would offer an immersive attendee experience while satisfying Saliterman's desire for a high rate of participant turnover: a narrative film highlighting the full gamut of CareerBuilder's services projected on an oversized, semicircular screen. Gilbert reasoned that P3's Emmy-nominated team could deliver an elaborately produced, Hollywood-caliber "mini movie" that would leave no doubt in showgoers' minds that CareerBuilder is far more than just a job board – and convey that message in less time than it takes Meryl Streep to perfect a new accent. Saliterman was sold, and P3's cinematic pitch got the green light.
Coming Attractions
With a rough outline of the project in place, it was now time to focus on the beating heart of every big-screen enterprise – the story. Saliterman tasked P3 with coming up with the framework of a plot that positioned CareerBuilder's "hello-to-hire" capabilities as the saving grace of harried HR professionals, with a few laughs thrown in for good measure. After participating in an in-depth demo of CareerBuilder's software and reviewing the granular messages the company wanted communicated, the P3 team came back with a storyboard concept it dubbed the "Dream Machine." The plot centered on an HR rep, Judy, and her struggle to find ideal job candidates. Via voiceover narration, Judy would contrast her reality, i.e., job applicants lacking adequate certification, failing drug tests, etc., versus her dream scenario of having labor-market data at her fingertips, finding qualified job seekers, and onboarding them in record time – all thanks to a magic tool. But Judy's fantasy, as the film's conclusion would make clear, is a reality for CareerBuilder users.
Saliterman loved the story and gave P3 the go-ahead to begin production. Gilbert's team, along with a CareerBuilder staffer who happened to be a stand-up comedian, worked to develop a script that balanced humor with talking points that positioned the company as a soup-to-nuts solution for HR hassles, all while keeping the film's running time top of mind. "We limited ourselves to four minutes, which is about twice as long as I'd be comfortable with if this was for the web," Gilbert says. "But due to the physical experience of being in the space and the anticipation of standing in line, we felt attendees would have a longer attention span. Plus we wanted to be sure the video was long enough to feel worth standing in line for."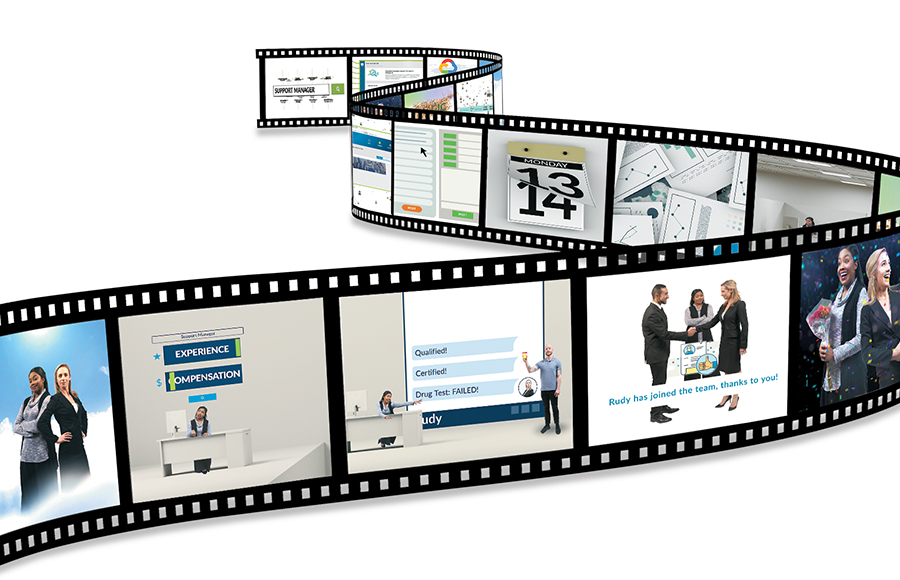 The four-minute "Dream Machine" film combined animated photos of the actors' performances with 2-D and 3-D animated graphics.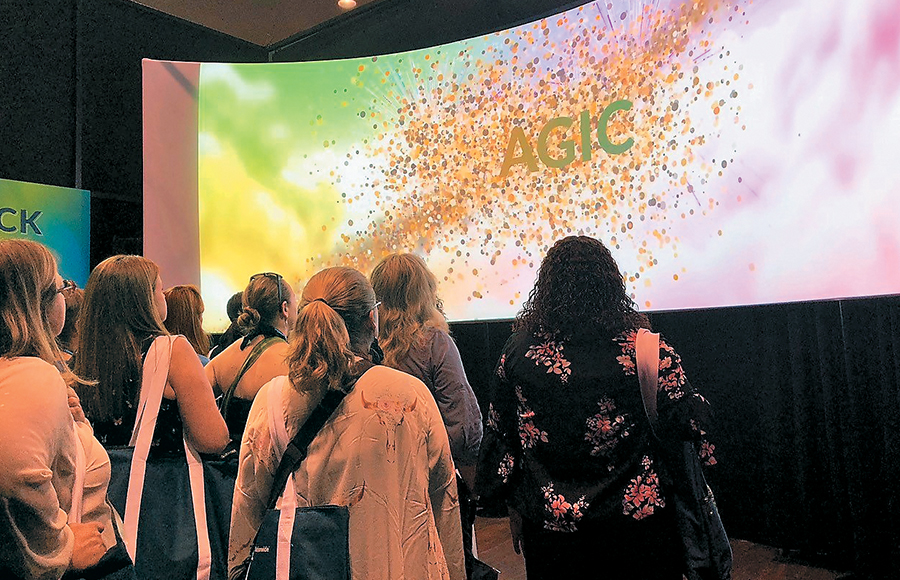 The theater's curved, 20-foot-wide projection screen allowed CareerBuilder to give large groups of attendees an immersive experience at the same time.
Giveaways included T-shirts printed with designs that aligned with attendees' interests, and select booth visitors won a pair of custom Bucketfeet sneakers.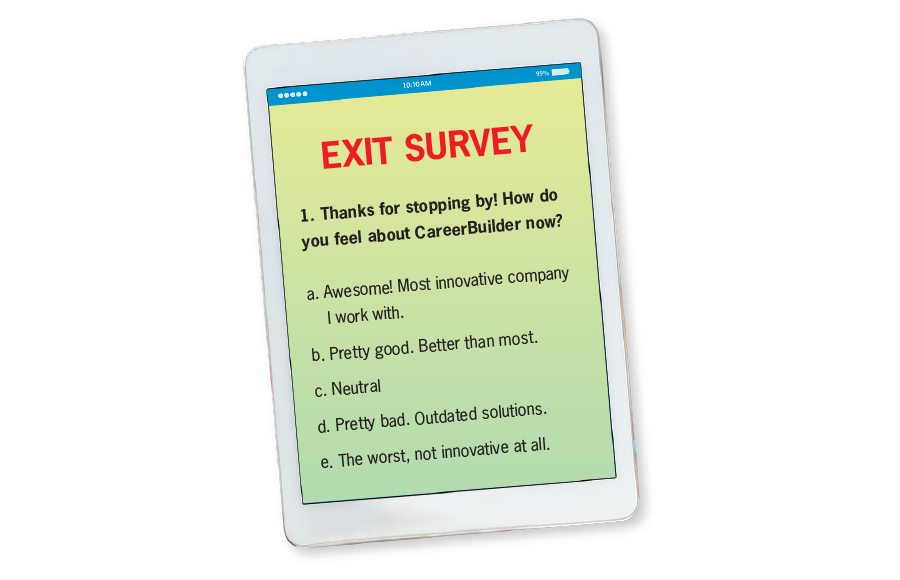 After viewing the film, attendees took another survey that again asked for their opinions about CareerBuilder.
Monitors on an aisle-adjacent wall displayed a real-time word cloud of attendees' brief descriptions of the company.
As P3 began shooting footage in its studio, Saliterman worked with Elmhurst, IL-based DesignCentrix LLC on the layout of the new 30-by-30-foot exhibit. The stand had to accommodate not only the fully enclosed theater but also adequate space for line management, a sizable giveaway station, and areas to conduct pre- and post-viewing surveys to determine if attendees perceived the company as more innovative after watching the "Dream Machine" film. While CareerBuilder set no hard goals for this metric, it did aim to funnel no fewer than 2,000 visitors through the exhibit and attract 600 qualified leads.
After sending registered attendees a trio of pre-show emails that introduced CareerBuilder's mysterious black box and urged recipients to stop by the booth to find out more, Saliterman and her staff ventured to McCormick Place. It was time to premiere her "Dream Machine" and see if it would earn her two thumbs up from HR reps or send her home with a Razzie.
Showtime at SHRM
Amid the elaborate, open-aired exhibitry filling SHRM's show floor, CareerBuilder's enclosed 15.5-foot-tall black cube stood out like a supersized version of the enigmatic monolith from "2001: A Space Odyssey." Branded at the top of all four walls, the tension-fabric space offered no clue as to what waited inside and quickly elicited curiosity.
Before watching the film, 503 attendees marked that they thought CareerBuilder was an "awesome" and "innovative" firm. By the end of SHRM, that number jumped to 1,205.
As the line of showgoers grew long enough to snake around the exhibit, staffers entertained the crowd by peppering them with trivia questions about CareerBuilder and Chicago. Those who answered correctly received branded bags of candy or buttered popcorn.
When attendees reached the front of the line, they had their badges scanned and stepped up to one of three freestanding iPad stations. Guests tapped their way through a brief qualifying survey that asked them about their organizations, areas of interest (recruiting solutions, employment screenings, or human-capital management), and, most importantly, how they felt about CareerBuilder as an HR solutions provider. Possible answers ranged from "Awesome! Most innovative company I work with." to "The worst, not innovative at all." Participants then followed a path of circular vinyl floor decals leading to the cube's entrance at a back corner of the space. At the appropriate time, another staffer parted the curtain and invited up to 25 attendees at a time into the theater.
Upon entering the 415-square-foot viewing area, which was darkened courtesy of a mesh fabric ceiling, attendees positioned themselves in front of a curved, 20-foot-wide, 8-foot-tall projection screen. When the entrance closed, the projector at the rear of the theater clicked on and relayed the story of Judy's "Dream Machine" to CareerBuilder's captive audience. Shot using animated photos of the actors' performances along with 2-D and 3-D animated graphics, the film opened with HR rep Judy and her hiring manager, Trudy, standing among the clouds. Judy's off-camera narration explained that this was her fantasy, an idyllic world where she and Trudy are friends and ideal job candidates such as Rudy, played by another actor, fall in her lap. Then the film made a smash cut to Judy's reality: She and Trudy work in a bland office, rarely communicate, and cycle through a series of unsuitable applicants. "What if the dream was real?" Judy asked. The camera panned up to the clouds, and Judy imagined a magic tool that would enable her to easily find, hire, and onboard Rudy. Because of this tool, Judy and Trudy would become office superstars and even get access to the private executive elevator. "Could any of this be possible?" she inquired, a question that prompted a series of feature and benefit statements about CareerBuilder's breadth of services (e.g., its number of data scientists dedicated to artificial intelligence and its partnerships with Google LLC and Facebook Inc.) to flash on the screen amid a flurry of gold glitter before fading to reveal the company's logo.
After the experience, which more often than not was filled with knowing laughter from the HR crowd, attendees exited at the opposite side of the theater and encountered a handful of staffers bearing iPads. Another badge scan led to a post-viewing survey in which booth visitors were again asked about their perceptions of CareerBuilder, how they would describe the firm in one or two words, and whether they wanted follow-up from a sales rep. As they returned to the front of the exhibit, attendees arrived at the giveaway station. A final badge scan recalled attendees' answers to the pretheater question regarding their areas of interest, and they were given T-shirts printed with designs relating to talent acquisition, human resources, or benefits administration. A randomizing software program built into the badge scanners resulted in one in seven attendees winning a pair of Bucketfeet sneakers designed by one of CareerBuilder's graphic designers.
VIDEO ON DEMAND
In-booth videos can be an effective tool to communicate important messages in an engaging, concise way. But before you call out "Action," heed these tips from Curtis Gilbert, co-founder and executive producer of P3 Mediaworks Inc.
1. Plan Ahead

Depending on the execution style, timelines for video productions can span weeks or months. Be sure your agency knows your deadline early in the process, as that will be a significant factor in establishing the creative direction of your project.
2. Be upfront about your budget

The budget range for video is extremely vast, so come to the table with at least an idea of how much you can spend. That way the agency knows if it can pitch ideas featuring digital animations, special effects, and professional acting talent.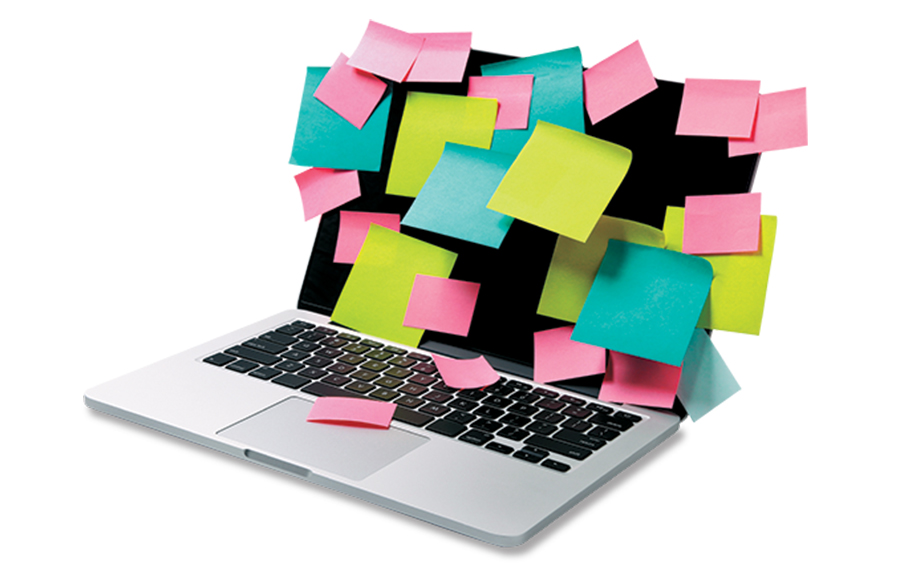 3. Avoid conveying too much information.

Granular details are for product literature and one-on-one interactions with staffers. Videos in an exhibit environment should be about grabbing attention and creating a spectacle. Think about what will make your target audience stop and say "Whoa!"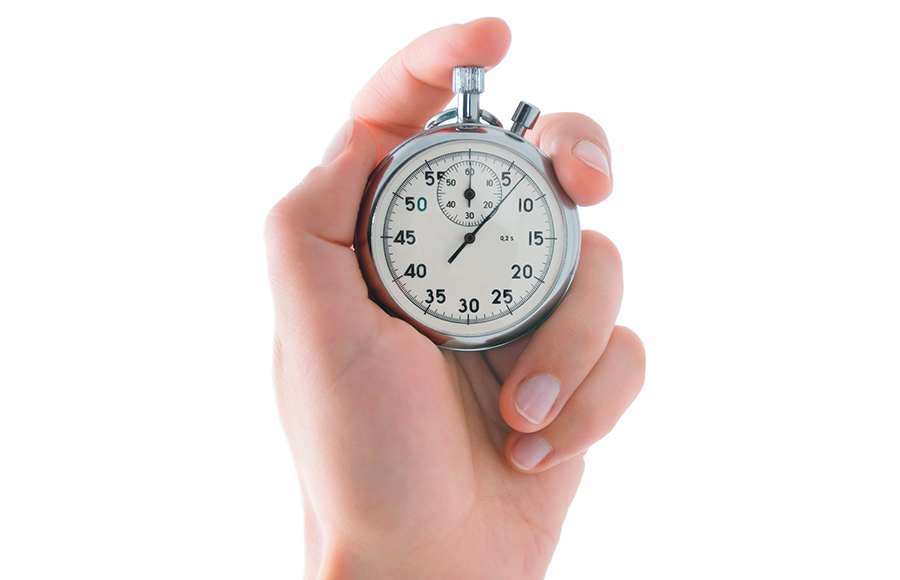 4. Think in seconds, not minutes.

It's been said that the average person has a shorter attention span than a goldfish – roughly eight seconds – and that metric decreases on the show floor. Small bursts of information presented in a visually dynamic way will rule the day and be more impactful.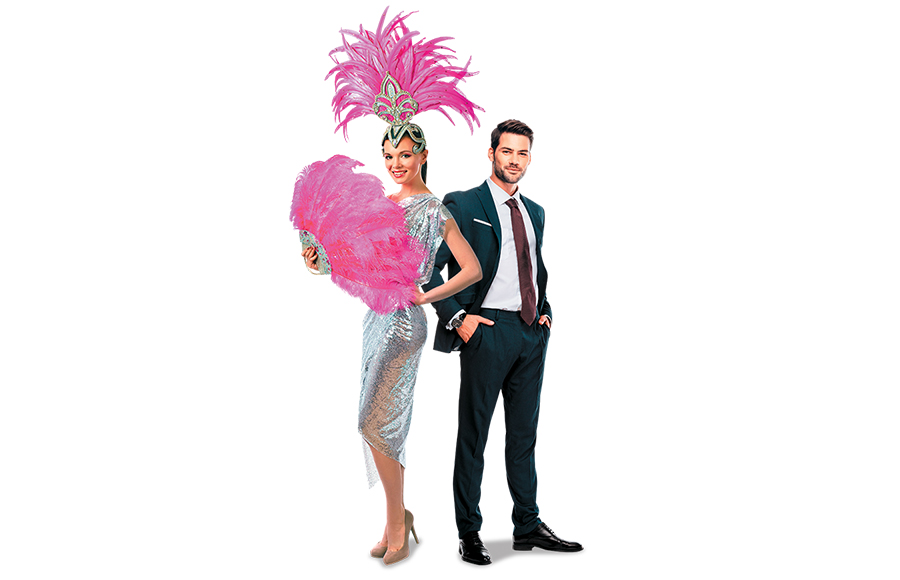 5. Match the video with the exhibit.

Just as your exhibit's graphics and giveaways support an overall theme, so too should your video. A formal, straightforward film with characters in suits and ties will look out of place in an exhibit decked out in a Vegas theme.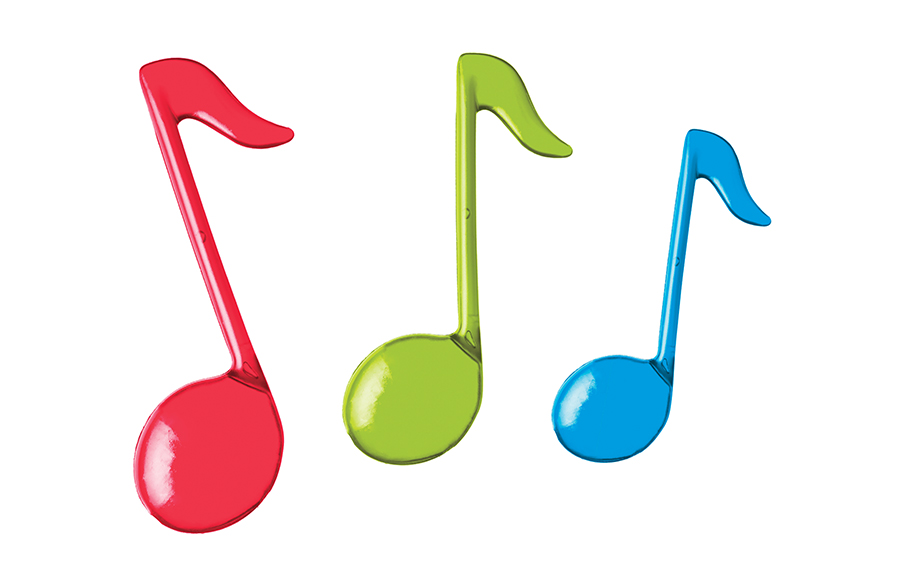 6. Remember the soundtrack.

Show floors are often loud, so if your video is dependent on voiceover, music, or other sound elements, make sure you have an audio strategy. Having said that, it's also possible to produce videos in which the messaging is delivered using visuals alone.
With their coveted swag in hand, booth visitors left with a clear understanding of CareerBuilder's capabilities. And as a final touchpoint – and a means of stoking additional curiosity about what was happening in its cube – CareerBuilder mounted nine 55-inch monitors to the far side of the exhibit. Beneath text reading "Step inside and see why people say CareerBuilder is..." appeared a real-time word cloud of attendees' brief descriptions of the company, with the size of each response correlating to its number of uses. Adjectives such as "results," "awesome," and "productivity" were visible from 20 paces, while "job board" was nowhere to be seen.
That's a Wrap
CareerBuilder arrived at SHRM determined to claim its place on the HR industry's A list, and its cinematic in-booth experience delivered box-office gold. More than 2,400 attendees viewed the "Dream Machine" film – roughly 22 percent above goal – and 917 of those booth visitors were qualified leads, a number 53 percent higher than CareerBuilder hoped to net.
More importantly, however, Career-Builder's foray on the big screen both showcased its robust offerings in brilliant Technicolor and had a significant impact on how showgoers view the company. Before watching the film, only 503 attendees marked that they thought CareerBuilder was an "awesome" and "innovative" firm. After four minutes with Judy, Trudy, and Rudy, that number jumped to 1,205 – a spike of 140 percent. A Hollywood spin doctor couldn't have done better, and although Saliterman has since moved on from CareerBuilder, she's grateful this exhibit was such a success. "Having a film experience be the cornerstone of the exhibit was a calculated risk," she says. "But looking back at the unique challenges we faced, I don't think things could have gone much better." It just goes to show that much like at the Oscars, bold performances on the show floor are often rewarded. E