2020 Centers of Excellence
Honoring North America's top convention centers for trade shows and events.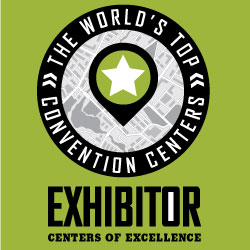 All North American convention centers were eligible to apply for EXHIBITOR magazine's 2020 Centers of Excellence competition. Applicants were evaluated using a variety of criteria in five primary categories: Facility & Functionality, Location & Accommodations, Service & Execution, Expansions & Upgrades, and Honors & Awards. The evaluation also included a survey of event planners, show organizers, and exhibit managers who have recently hosted (or exhibited at) trade shows and events within each facility, as well as a review of entrants' event spaces, primary selling points, nearby attractions, and innovations, conducted by a panel of corporate exhibit managers. The 20 highest-scoring entries have earned the distinction of being named among EXHIBITOR Magazine's 2020 Centers of Excellence.

For more information on each of the top 20 convention centers, click the photos below.